The Turquoise Ledge: A Memoir (Hardcover)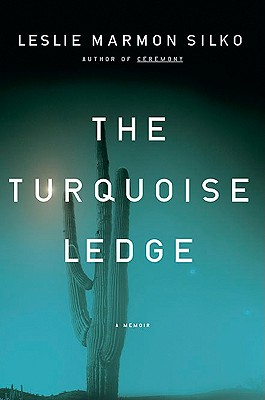 $25.95
Special Order - Subject to Availability
December 2010 Indie Next List
---
"Novelist Silko's memoir invites readers to travel with her outside her home in the Tucson Mountains and deep into the arroyos and foothills of the Sonoran Desert. Where others see a barren landscape, she finds a lushness and a home. Even bits of the land, the turquoise, reach out to her. To read Silko's writing is to enter into a space in which our assumptions about time, family, relatedness, and nature are upended. The stories she tells are beautiful, haunting and true."
— Karen Maeda Allman, Elliot Bay Book Co., Seattle, WA
Description
---
A highly original and poetic self-portrait from one of America's most acclaimed writers.
Leslie Marmon Silko's new book, her first in ten years, combines memoir with family history and reflections on the creatures and beings that command her attention and inform her vision of the world, taking readers along on her daily walks through the arroyos and ledges of the Sonoran desert in Arizona. Silko weaves tales from her family's past into her observations, using the turquoise stones she finds on the walks to unite the strands of her stories, while the beauty and symbolism of the landscape around her, and of the snakes, birds, dogs, and other animals that share her life and form part of her family, figure prominently in her memories. Strongly influenced by Native American storytelling traditions, "The Turquoise Ledge" becomes a moving and deeply personal contemplation of the enormous spiritual power of the natural world-of what these creatures and landscapes can communicate to us, and how they are all linked.
The book is Silko's first extended work of nonfiction, and its ambitious scope, clear prose, and inventive structure are captivating. "The Turquoise Ledge" will delight loyal fans and new readers alike, and it marks the return of the unique voice and vision of a gifted storyteller.
About the Author
---
Leslie Marmon Silko was born in 1948 to a family whose ancestry includes Mexican, Laguna Indian, and European forebears. She has said that her writing has at its core the attempt to identify what it is to be a half-breed or mixed-blood person. As she grew up on the Laguna Pueblo Reservation, she learned the stories and culture of the Laguna people from her great-grandmother and other female relatives. After receiving her B. A. in English at the University of New Mexico, she enrolled in the University of New Mexico law school but completed only three semesters before deciding that writing and storytelling, not law, were the means by which she could best promote justice. She married John Silko in 1970. Prior to the writing of "Ceremony," she published a series of short stories, including The Man to Send Rain Clouds. She also authored a volume of poetry, "Laguna Woman: Poems," for which she received the Pushcart Prize for Poetry. In 1973, Silko moved to Ketchikan, Alaska, where she wrote "Ceremony." Initially conceived as a comic story abut a mother s attempts to keep her son, a war veteran, away from alcohol, "Ceremony" gradually transformed into an intricate meditation on mental disturbance, despair, and the power of stories and traditional culture as the keys to self-awareness and, eventually, emotional healing. Having battled depression herself while composing her novel, Silko was later to call her book a ceremony for staying sane. Silko has followed the critical success of "Ceremony" with a series of other novels, including "Storyteller, Almanac for the Dead," and "Gardens in the Dunes." Nevertheless, it was the singular achievement of "Ceremony" that first secured her a place among the first rank of Native American novelists. Leslie Marmon Silko now lives on a ranch near Tucson, Arizona. "