Eon: Dragoneye Reborn (Hardcover)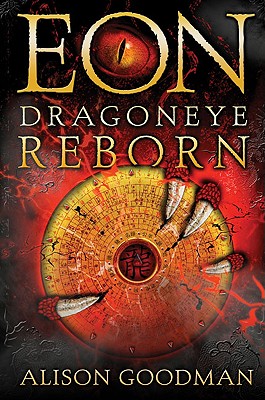 Staff Reviews
---
Meet Eona, a 16-year-old girl pretending to be 12-year-old Eon. Eon has been training for the last four years of "his" life to become an apprentice to one of the twelve energy dragons of good fortune. Only males are allowed to use Dragon Magic, so Eona must keep up her pretense to save herself and her friends from certain death. That's not her only problem, she must also find a way to save the Imperial Throne from being overthrown by a power hungry lord. A powerful and exciting story for anyone trying to find the courage to be their true self.
—
Brandi
Description
---
Eon has been studying the ancient art of Dragon Magic for four years, hoping he'll be able to apprentice to one of the twelve energy dragons of good fortune. But he also has a dark secret. He is actually Eona, a sixteen-year-old girl who has been living a dangerous lie for the chance to become a Dragoneye, the human link to an energy dragon's power. It is forbidden for females to practice the Dragon Magic and, if discovered, Eon faces a terrible death. After a dazzling sword ceremony, Eon's affinity with the twelve dragons catapults him into the treacherous world of the Imperial court, where he makes a powerful enemy, Lord Ido. As tension builds and Eon's desperate lie comes to light, readers won't be able to stop turning the pages ...
About the Author
---
Alison Goodman was born in Australia, and after a bit of wandering, now lives in her beloved hometown of Melbourne. She was the 1999 D.J. O'Hearn Memorial Fellow at Melbourne University, holds a master of arts, and teaches creative writing at the postgraduate level.
Praise For…
---
"The author's plotting is elaborate, smart and capable of taking the audience by surprise. Enthralled readers will be hard-pressed to wait for the story's second half."—Publishers Weekly, starred review



"A mesmerizing story, a world so richly imagined that it feels real. No detail is overlooked, from the smallest sensory description to the fascinating mythos of the elemental dragons. Entangled politics and fierce battle scenes provide a pulse-quickening pace, while the intriguing characters add interest and depth. Readers will clamor for the sequel."—Booklist, starred review



"Fast-paced excitement carries Eon through this tension-packed adventure, where victory can only come with self-knowledge. This adventure, filled with intrigue, friendships, combat and magical allies, is a winner."—Kirkus Reviews



"A refreshing change from the generic. This intelligent, vividly written tale grips from the first page."—The Times, London



"Alison Goodman has created a wonderfully well-rounded story in this, the first of a duology set in a faux Asian world. [Eon] deftly straddles the young adult and adult market. This coming of age story sports enough action and intrigue to keep the reader galloping along through Eona's trials and tribulations."—Courier Mail, Australia



"Fans of Tamora Pierce and Garth Nix will be riveted by this fast-paced gender-bending fantasy. Goodman's rousing mix of swordplay, magic, adventure, and Asian astrology is inventive and enthralling."—Parents Express



"Goodman has produced an action-packed, well-plotted and acutely imagined fantasy that draws on the popularity of such films as Crouching Tiger, Hidden Dragon. Anyone who enjoys kung-fu movies will devour this book."—The Age, Australia



"Eon walks the tightrope between adult and child with consummate skill, immersing you in the atmosphere one minute and exciting you with intrigue and thrills the next, while all the time making Eon constantly reassess who are her allies and enemies right through to the cliffhanger finale. If part one of this story is anything to go by, part two is going to be a cracker, and I for one, cannot wait for it."—Sci-Fi London



"The girl-in-disguise plot gets interesting added twists and the blended Asian atmosphere adds plenty of color, combining to make an entertaining adventure."—LOCUS Magazine



"This complex, richly envisioned tale will appeal to fantasy lovers of all ages. Incorporating elements of the hero's quest with closely guarded secrets, ancient texts, mythical beasts and compellingly realistic political machinations, Goodman has created a gem. The action carries readers on a wild ride as Eon attempts to balance doing what is right with keeping herself alive against mounting odds. A richly developed historical and cultural background combined with turbulent current affairs makes this is more then a coming of age tale, this is fantasy writing at its best."—Monsters & Critics



"I loved this book. You will be drawn into Eon's struggle from the first page. The story contains an epic battle of good versus evil with the fate of the kingdom depending on an unlikely and unprepared hero that you can't help but love. This is a super young adult offering that other ages will love as well."—Armchair Interviews



"An intensely compelling read. Based off of Chinese and Japanese myths and legends, it is an exhilarating blend of mystery, suspense, and foreign culture and habits that will engross and entertain readers to no end. The ending is heart stopping, and the complete cliff hanger will most certainly leave readers yearning for the conclusion of this smart and drama filled duet in the next book--whose title is too much a spoiler to reveal yet, but hopes to be just as riveting and breathtaking."—The Compulsive Reader



"Eon: Dragoneye Reborn is a richly detailed fantasy that will appeal to anyone who loves stories of exotic lands, court intrigue, interesting characters, power struggles, secrets, and personal heroism."—Wands and Worlds Review