The Mind Club: Who Thinks, What Feels, and Why It Matters (Hardcover)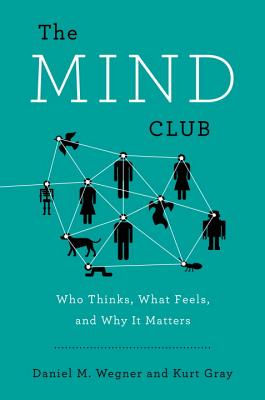 $29.00
Special Order - Subject to Availability
Description
---
"Compelling, and so beautifully written…'The Mind Club' deftly brings the most up-to-date research about other minds to readers of all backgrounds. It may cause you to think differently about crime and punishment, about business transactions and health care, and even about the upcoming elections. Things might just start looking up."–The Wall Street Journal

From dogs to gods, the science of understanding mysterious minds—including your own.   

Nothing seems more real than the minds of other people. When you consider what your boss is thinking or whether your spouse is happy, you are admitting them into the "mind club." It's easy to assume other humans can think and feel, but what about a cow, a computer, a corporation? What kinds of mind do they have? Daniel M. Wegner and Kurt Gray are award-winning psychologists who have discovered that minds—while incredibly important—are a matter of perception. Their research opens a trove of new findings, with insights into human behavior that are fascinating, frightening and funny.
       The Mind Club explains why we love some animals and eat others, why people debate the existence of God so intensely, how good people can be so cruel, and why robots make such poor lovers.  By investigating the mind perception of extraordinary targets—animals, machines, comatose people, god—Wegner and Gray explain what it means to have a mind, and why it matters so much.
         Fusing cutting-edge research and personal anecdotes, The Mind Club explores the moral dimensions of mind perception with wit and compassion, revealing the surprisingly simple basis for what compels us to love and hate, to harm and to protect.
About the Author
---
Daniel M. Wegner was the John Lindsley Professor of Psychology in Memory of William James at Harvard University, and recipient of the 2011 Distinguished Scientific Contribution Award of the American Psychological Association, the 2011 William James Fellow Award of the Association for Psychological Science, and the 2011 Distinguished Scientist Award of the Experimental Social Psychology. He is the author of The Illusion of Conscious Will, among other books. He passed away in July 2013.

Kurt Gray is an assistant professor at the University of North Carolina, Chapel Hill, where he leads the Mind Perception and Morality Lab. He received his BSc from the University of Waterloo and his Ph.D. in social psychology from Harvard University. A recipient of the Janet Spence Award for Transformative Early Career Research from the Association for Psychological Science, he lives in Chapel Hill.
Praise For…
---
"If we could only mind read, we would know how our first date or job interview really went. In reality, we understand little about what goes on in the minds of others, even those we think we know best. According to psychologists Wegner and Gray, 'you can never be certain that other minds even exist.' The authors explore these uncertainties, weaving together personal anecdotes and research on human behavior and perception to try to unravel the mysteries of the mind."—Scientific American

"Daniel Wegner was among the world's cleverest, wittiest, and most beloved social psychologists. The Mind Club is genuinely novel, with brilliantly conceived studies on some of the deepest issues the mind of man can ponder."—Steven Pinker, author of The Stuff of Thought and How the Mind Works

"Reading The Mind Club will take your thoughts about minds to places you never imagined…[Wegner and Gray] have created a true page-turner: witty, quirky and insightful."—New Scientist

"A wonderful and strange book; science-fiction thought experiments ('robot versus baby') informed by social psychology experiments of fascinating design, part ethics, philosophy, neuroscience... authentically mind-boggling. And fun!"—Boing Boing 

"A layman's guide to understanding how humans come to understand the minds of others... where and why people draw the line between perceiving another (or an inanimate object) as having a mind or not."—Brian Resnick, Vox 

"Daniel Wegner's final book is a masterpiece made ever more precious by his untimely death. Thankfully, his brilliance and wit live on—in these pages, and in his collaborator and protégé, Kurt Gray, who presents their ideas with clarity, depth, and style. The Mind Club is not to be missed."—Daniel Gilbert, author of Stumbling on Happiness

"One of psychology's greatest and one of its best young minds—who better to remind us to mind minds."—Michael Norton, Harvard Business School Professor and coauthor of Happy Money: The Science of Happier Spending

"A pleasure for anyone comfortable with the thought that knowing others' minds will improve our own."—Kirkus 

"Daniel Wegner was one of psychology's most creative minds, and Kurt Gray was one of his most creative collaborators. The Mind Club describes their biggest idea together using thought-provoking examples, clever writing, and brilliant experiments. Essential reading for anyone who owns a mind and wants to know how to use it!"—Nicholas Epley, Professor of Behavioral Science, University of Chicago Booth School of Business and author of Mindwise

"Did he intend to cause harm? Did she feel pain and suffer? When it comes to morality—abortion, animal rights, legal culpability—many of the deepest questions boil down to: Does he or she (or even it) have a properly working mind? In lucid prose, Wegner and Gray explore the profound nature and implications of this question—one that is becoming all the more complex as lines of awareness and intent blur in a world where technology is rapidly advancing."—David DeSteno, author of  Out of Character

"An engaging ride through the hidden science of the human mind. If this book doesn't change the way you see the world, and yourself, nothing will."—Jonah Berger, Wharton Professor and Bestselling Author of Contagious and Invisible Influence
 
"The world lost an intellectual giant when Daniel Wegner passed. Lucky for us, his legendary wit and conversation-stoking discoveries live on in The Mind Club, and indeed in the career and voice of Kurt Gray, one of Daniel's last doctoral students. The Mind Club draws you in with fun facts that hold grave implications for the meaning of life, loss, and morality."—Barbara Fredrickson, author of Positivity and Love 2.0
 
"Science writing at its best: informative, entertaining, and thought-provoking. Who knew that the debate over whether an embryo is human can be explained by the same processes that have you believing your car has it in for you? Gray is a gifted young scientist who shares his insights in an easy, delightfully snarky way. But the best thing about The Mind Club is that it gives us one more chance to perceive Wegner's mind, in all its glorious wit and intelligence; for those of us who knew him, this is a gift, and for those who didn't, it's an opportunity not to be missed."—Lisa Feldman Barrett, Ph.D., Director of the Interdisciplinary Science Laboratory and University Distinguished Professor of Psychology at Northeastern University and author of How Emotions Are Made