The Millionaire Next Door (Paperback)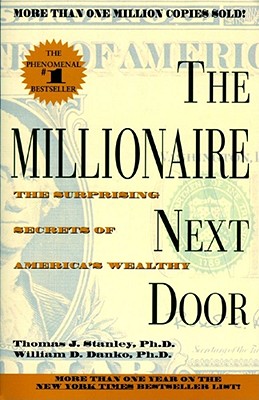 Description
---
The incredible national bestseller that is changing people's lives -- and increasing their net worth!
CAN YOU SPOT THE MILLIONAIRE NEXT DOOR?
Who are the rich in this country?
What do they do?
Where do they shop?
What do they drive?
How do they invest?
Where did their ancestors come from?
How did they get rich?
Can I ever become one of them?

Get the answers in The Millionaire Next Door, the never-before-told story about wealth in America. You'll be surprised at what you find out....
About the Author
---
Dr. Thomas J. Stanley began studying the affluent in 1973. His coauthored best-selling book, The Millionaire Next Door, released in 1996, has sold 2,000,000 copies. Thomas followed his first book with Marketing to the Affluent, ranked among the ten outstanding business books by the editors of Best of Business Quarterly. In 1999, he published The Millionaire Mind, which explored America's financial elite and how they became so. The Millionaire Mind has sold 750,000 copies. The author lives in Atlanta, holds a doctorate of business administration from the University of Georgia in Athens and was formerly a professor of marketing at Georgia State University.
Praise For…
---
Forbes The implication of The Millionaire Next Door...is that nearly anybody with a steady job can amass a tidy fortune.

The Washington Post [A] REMARKABLE BOOK.

USA Today A nerve has been hit....[For] people who want to become wealthy.

Boston Globe A primer for amassing wealth through frugality.

San Francisco Business Times Offers a valuable message to today's spendthrift baby boomers.

Rush Limbaugh The kind of information that could lift the economic prospects of individuals more than any government policy...The Millionaire Next Door has a theme that I think rings very true..."Hey, I can do it. You can do it too!"

Business Week An interesting sociological work.

Lexington (NC) Dispatch A fascinating examination of the affluent in American society.

Cox News Service These, for the wise, are tips for all of us....A very readable book.

U.S. News & World Report Debunks the image of the rich as high-living spendthrifts.