Growth for Good: Reshaping Capitalism to Save Humanity from Climate Catastrophe (Hardcover)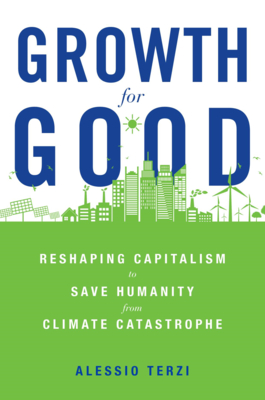 Description
---
A Foreign Affairs Best Book of the Year
From the front lines of economics and policymaking, a compelling case that economic growth is a force for good and a blueprint for enrolling it in the fight against climate change.
Economic growth is wrecking the planet. It's the engine driving climate change, pollution, and the shrinking of natural spaces. To save the environment, will we have to shrink the economy? Might this even lead to a better society, especially in rich nations, helping us break free from a pointless obsession with material wealth that only benefits the few? Alessio Terzi takes these legitimate questions as a starting point for a riveting journey into the socioeconomic, evolutionary, and cultural origins of our need for growth. It's an imperative, he argues, that we abandon at our own risk. Terzi ranges across centuries and diverse civilizations to show that focus on economic expansion is deeply interwoven with the human quest for happiness, well-being, and self-determination. Growth, he argues, is underpinned by core principles and dynamics behind the West's rise to affluence. These include the positivism of the Enlightenment, the acceleration of science and technology and, ultimately, progress itself. Today growth contributes to the stability of liberal democracy, the peaceful conduct of international relations, and the very way our society is organized through capitalism. Abandoning growth would not only prove impractical, but would also sow chaos, exacerbating conflict within and among societies. This does not mean we have to choose between chaos and environmental destruction.
Growth for Good
presents a credible agenda to enroll capitalism in the fight against climate catastrophe. With the right policies and the help of engaged citizens, pioneering nations can set in motion a global decarbonization wave and in parallel create good jobs and a better, greener, healthier world.