Capital in the Twenty-First Century (Hardcover)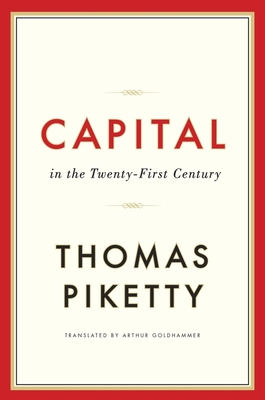 Staff Reviews
---
I found it prophetic that Piketty's treatise on 21st-century economic policy was titled exactly the same as Marx's 19th-century book on the very same topic. Like Marx, Piketty has written a game-changer--absolutely shattering myths about taxation and capitalism that both the left and the right have held for centuries. Capitalism, he argues, is no equalizer. The convergence of post-war incomes was a great anomaly. Instead, capitalism inherently preserves the great wealth of executives, wealthy heirs, and others who deliberately manipulate a system rigged in their favor. And, he shows, the game they rig will threaten democracy itself unless we preemptively combat it with more progressive taxation than even most leftists would dream of proposing. But Capital is no book of lofty academic ideas and ideals. Piketty (and his translator) are surprisingly readable, and he drives his points home with impressive amounts of historical and cross-country data--much of which he gathered himself. You'll read passages of this out loud to your politically-minded friends over coffee or wine, I guarantee it.
—
JENNIE'S STAFF PICKS
Description
---
A New York Times #1 Bestseller
An Amazon #1 Bestseller
A Wall Street Journal #1 Bestseller
A USA Today Bestseller
A Sunday Times Bestseller
A Guardian Best Book of the 21st Century
Winner of the Financial Times and McKinsey Business Book of the Year Award
Winner of the British Academy Medal
Finalist, National Book Critics Circle Award
What are the grand dynamics that drive the accumulation and distribution of capital? Questions about the long-term evolution of inequality, the concentration of wealth, and the prospects for economic growth lie at the heart of political economy. But satisfactory answers have been hard to find for lack of adequate data and clear guiding theories. In
Capital in the Twenty-First Century
, Thomas Piketty analyzes a unique collection of data from twenty countries, ranging as far back as the eighteenth century, to uncover key economic and social patterns. His findings will transform debate and set the agenda for the next generation of thought about wealth and inequality. Piketty shows that modern economic growth and the diffusion of knowledge have allowed us to avoid inequalities on the apocalyptic scale predicted by Karl Marx. But we have not modified the deep structures of capital and inequality as much as we thought in the optimistic decades following World War II. The main driver of inequality--the tendency of returns on capital to exceed the rate of economic growth--today threatens to generate extreme inequalities that stir discontent and undermine democratic values. But economic trends are not acts of God. Political action has curbed dangerous inequalities in the past, Piketty says, and may do so again. A work of extraordinary ambition, originality, and rigor,
Capital in the Twenty-First Century
reorients our understanding of economic history and confronts us with sobering lessons for today.
Coverage from NPR