Capital in the Twenty-First Century (Paperback)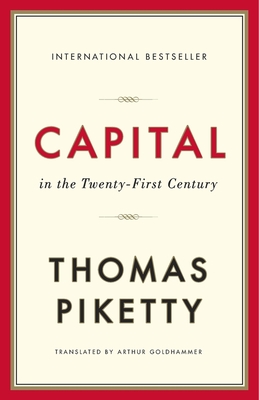 List Price: $24.00
Our Price: $23.00
(Save: $1.00 4%)
Staff Reviews
---
I found it prophetic that Piketty's treatise on 21st-century economic policy was titled exactly the same as Marx's 19th-century book on the very same topic. Like Marx, Piketty has written a game-changer--absolutely shattering myths about taxation and capitalism that both the left and the right have held for centuries. Capitalism, he argues, is no equalizer. The convergence of post-war incomes was a great anomaly. Instead, capitalism inherently preserves the great wealth of executives, wealthy heirs, and others who deliberately manipulate a system rigged in their favor. And, he shows, the game they rig will threaten democracy itself unless we preemptively combat it with more progressive taxation than even most leftists would dream of proposing. But Capital is no book of lofty academic ideas and ideals. Piketty (and his translator) are surprisingly readable, and he drives his points home with impressive amounts of historical and cross-country data--much of which he gathered himself. You'll read passages of this out loud to your politically-minded friends over coffee or wine, I guarantee it.
—
JENNIE'S STAFF PICKS
Description
---
A New York Times #1 Bestseller
An Amazon #1 Bestseller
A Wall Street Journal #1 Bestseller
A USA Today Bestseller
A Sunday Times Bestseller
A Guardian Best Book of the 21st Century
Winner of the Financial Times and McKinsey Business Book of the Year Award
Winner of the British Academy Medal
Finalist, National Book Critics Circle Award
"It seems safe to say that
Capital in the Twenty-First Century
, the magnum opus of the French economist Thomas Piketty, will be the most important economics book of the year--and maybe of the decade."
--Paul Krugman,
New York Times
"The book aims to revolutionize the way people think about the economic history of the past two centuries. It may well manage the feat."
--
The Economist
"Piketty's
Capital in the Twenty-First Century
is an intellectual tour de force, a triumph of economic history over the theoretical, mathematical modeling that has come to dominate the economics profession in recent years."
--Steven Pearlstein,
Washington Post
"Piketty has written an extraordinarily important book...In its scale and sweep it brings us back to the founders of political economy."
--Martin Wolf,
Financial Times
"A sweeping account of rising inequality...Piketty has written a book that nobody interested in a defining issue of our era can afford to ignore."
--John Cassidy,
New Yorker
"Stands a fair chance of becoming the most influential work of economics yet published in our young century. It is the most important study of inequality in over fifty years."
--Timothy Shenk,
The Nation