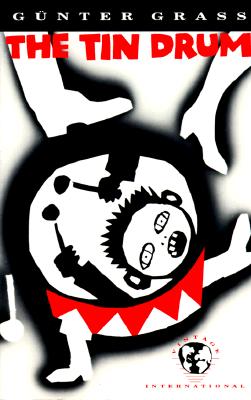 $15.95
Special Order - Subject to Availability
Staff Reviews
---
March along as Oskar taps out his life atop a tin drum. Pounding away rhythmic diatribes of a refusal to let nature force him out of adolescence, the eternal three-year-old meanders through his mother's conception in a Kashubian potato field, off into Danzig before and after WWII. Hear him reminisce on a moth upon his first exposure to experience outside the womb. See, stream down to a solemn beat, the tears of Poland as an invasion by Germany roars through swinging to "Jimmy the Tiger". This depiction of dilution and confusion during the dilapidating rise and fall of the Third Reich is vivid; conjuring up a sense of pristine confidence in the midst of what should seem inconceivable. Guided by his literary mentors, Rasputin and Goethe, Oskar composes the tale of his people's travail in intoxicating movements which never go pale.
—
Lance
Description
---
Acclaimed as the greatest German novel written since the end of World War II, The Tin Drum is the autobiography of thirty-year-old Oskar Matzerath, who has lived through the long Nazi nightmare and who, as the novel begins, is being held in a mental institution.  Willfully stunting his growth at three feet for many years, wielding his tin drum and piercing scream as anarchistic weapons, he provides a profound yet hilarious perspective on both German history and the human condition in the modern world.

Translated from the German by Ralph Manheim.
Praise For…
---
"When Günter Grass published The Tin Drum in 1959, it was as if German literature had been granted a new beginning after decades of linguistic and moral destruction.  Within the pages of this, his first novel, Grass re-created the lost world from which his creativity sprang: Danzig, his home town, as he remembered it from the years of his infancy before the catastrophe of war.  Here he comes to grips with the enormous task of reviewing contemporary history by recalling the disavowed and the forgotten: the victims, losers, and lies that people wanted to forget because they had once believed in them.  The unforgettable Oskar Matzerath is an intellectual whose critical approach is childishness, a one-man carnival, dadaism in action in everyday German provincial life just when this small world becomes involved in the sanity of the great world surrounding it.  It is not too audacious to assume that The Tin Drum will become one of the enduring literary works of the twentieth century."
-- The Swedish Academy, awarding Günter Grass the Nobel Prize for Literature, 1999