Reading Reflex: The Foolproof Phono-Graphix Method for Teaching Your Child to Read (Paperback)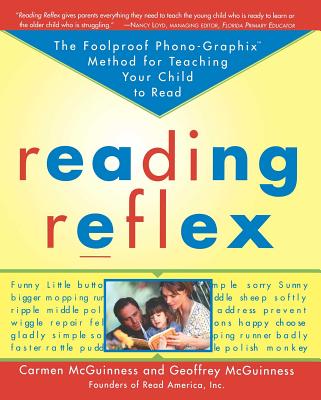 $19.99

Not Available In-Store - Usually Ships from Warehouse in 1-5 Days
Description
---
Reading is the single most important skill for any child to develop. And the key to learning how to read effectively is recognizing the sounds that letters and words represent. With the help of the revolutionary system known as Phono-Graphix™, you and your child can discover the sound-picture code that is the foundation of the written English language.

Help your child unlock the sound-picture code.

An effective and easy-to-understand approach, Phono-Graphix enables you to teach your child to read in one-tenth the time of phonics with a 100 percent success rate. In just eleven weeks, you can bring your kindergartner to first-grade-level reading—even learning-disabled children can reach grade level or higher in just twelve weeks.

Reading Reflex provides you with:

-Simple diagnostic tests to determine your child's reading level, and a Literacy Growth Chart so you'll know what goals to establish

-Detailed instructions and illustrations to help your child develop strong, consistent reading skills and to correct ineffective reading strategies such as part-word reading and memorizing

-Fun and easy-to-follow exercises, hands-on materials, worksheets, stories, and games that you and your child can do together

-Enjoyable lessons that are carefully constructed to meet the interests and capabilities of children of all ages
About the Author
---
Carmen and Geoffrey McGuinness are the co-founders of the Read America clinic and developers of the research-based Phono-Graphix™ reading method. They have trained and certified thousands of reading specialists and classroom teachers in the United States, Great Britain, and Canada in this method, and they often speak and write for various teaching, parenting, and research associations. They live in Orlando, Florida.
Praise For…
---
Nancy Loyd managing editor, Florida Primary Educator Reading Reflex gives parents everything they need to teach the young child who is ready to learn or the older child who is struggling.

Daily Telegraph (London) A sparklingly clear guide to teaching reading...Reading Reflex is the essential handbook for anyone who wants to teach reading at home or in the classroom.

Steve Truch director of The Reading Foundation The authors have done parents everywhere a great service. This book contains a well-researched and logical system of teaching children to read. It will go a long way in helping to meet the literacy challenge of the 21st century.