The Gospel of J. Edgar Hoover: How the FBI Aided and Abetted the Rise of White Christian Nationalism (Hardcover)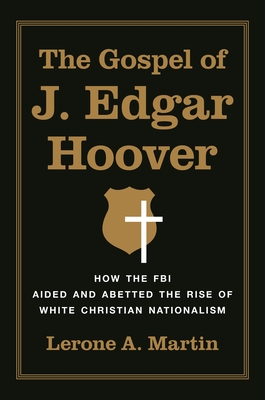 Description
---
The shocking untold story of how the FBI partnered with white evangelicals to champion a vision of America as a white Christian nation
On a Sunday morning in 1966, a group of white evangelicals dedicated a stained glass window to J. Edgar Hoover. The FBI director was not an evangelical, but his Christian admirers anointed him as their political champion, believing he would lead America back to God.
The Gospel of J. Edgar Hoover
reveals how Hoover and his FBI teamed up with leading white evangelicals and Catholics to bring about a white Christian America by any means necessary. Lerone Martin draws on thousands of newly declassified FBI documents and memos to describe how, under Hoover's leadership, FBI agents attended spiritual retreats and worship services, creating an FBI religious culture that fashioned G-men into soldiers and ministers of Christian America. Martin shows how prominent figures such as Billy Graham, Fulton Sheen, and countless other ministers from across the country partnered with the FBI and laundered bureau intel in their sermons while the faithful crowned Hoover the adjudicator of true evangelical faith and allegiance. These partnerships not only solidified the political norms of modern white evangelicalism, they also contributed to the political rise of white Christian nationalism, establishing religion and race as the bedrock of the modern national security state, and setting the terms for today's domestic terrorism debates. Taking readers from the pulpits and pews of small-town America to the Oval Office, and from the grassroots to denominational boardrooms,
The Gospel of J. Edgar Hoover
completely transforms how we understand the FBI, white evangelicalism, and our nation's entangled history of religion and politics.
About the Author
---
Lerone A. Martin is the Martin Luther King, Jr., Centennial Professor and Director of the Martin Luther King, Jr., Research and Education Institute at Stanford University. He is the award-winning author of Preaching on Wax: The Phonograph and the Shaping of Modern African American Religion.