The Chapel of Princeton University (Hardcover)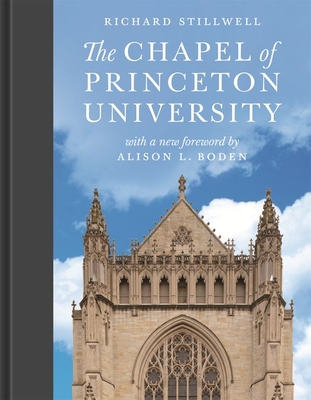 Description
---
The classic guide to one of America's architectural treasures--now with magnificent new color photos and a foreword by Princeton's dean of religious life
Like the medieval English cathedrals that inspired it, the Princeton University Chapel is an architectural achievement designed to evoke wonder, awe, and reflection. Richard Stillwell's
The Chapel of Princeton University
is the essential illustrated guide to this magnificent architectural and cultural landmark. Now with new color photos throughout,
The Chapel of Princeton University
traces the history of the chapel and describes its architecture, sculpture, woodwork, and furnishings. Stillwell knew the building from its planning stages through its construction, dedication, and long use. In this book, he offers unique insights into the vision of architect Ralph Adams Cram and the artistry of Charles J. Connick, who designed the chapel's breathtaking cycle of stained-glass windows. Stillwell's thoroughly researched account of the glorious stone, wood, and glasswork gives readers and visitors an opportunity to enjoy the chapel as both an aesthetically beautiful structure and a moving religious statement. Stillwell reveals how the building's composition is meant to provide spiritual access to as many seekers as possible and instill in them an extraordinary message of hope. Featuring a foreword by Alison Boden, Princeton's dean of religious life,
The Chapel of Princeton University
is a guided tour of an inspiring structure that has served as the spiritual home to one of America's leading universities.
About the Author
---
Richard Stillwell (1899-1982) was the Howard Crosby Butler Professor Emeritus of the History of Architecture at Princeton University, director of the American School of Classical Studies at Athens, and editor in chief of the American Journal of Archaeology. His books include The Princeton Encyclopedia of Classical Sites (Princeton). Alison L. Boden is Dean of Religious Life and of the Chapel at Princeton and a minister in the United Church of Christ. She is the author of Women's Rights and Religious Practice.