A Timeline of the African Diaspora Experience in Florida (Paperback)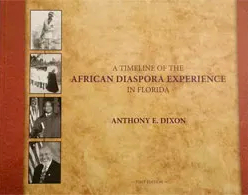 $24.95

Special Order - Subject to Availability
Description
---
Florida has a relationship with African descendants unlike any other state. Early Spanish inhabitants believed that it reminded Africans of their homeland. From its earliest beginnings, it became a place for African descendants to come to create a better existence for themselves and their kin. By providing a safe haven for runaway slaves from English Plantation society, Florida became the first destination for the Underground Railroad. Beginning in the late 19th century, numbers of Afro-Caribbean peoples began to come to Florida seeking opportunities that they may not otherwise have. This migration continues today.

The Florida African Diaspora Timeline highlights those main events that occurred within this special relationship. It chronologically takes readers through a journey while forecasting the path for the Diaspora in the future.
About the Author
---
Anthony E. Dixon, PhD is a native of Fort Valley, Georgia. In 1994, he received a Bachelor of Science degree in History with a minor in African American Studies from Florida A&M University. In 2001, he received a Master's of Applied Social Science from Florida A&M University with a concentration in History. In 2007, he received his Ph.D. from Indiana University's History Department where he majored in the African Diaspora. His studies included African American History, and African History, with a minor in Library Science/Special Collections and Archives. In 2019 he received his M.I.S. (Master's of Information Science) from Florida State University.
Currently, he is the Founder and President of Archival and Historical Research Associates.