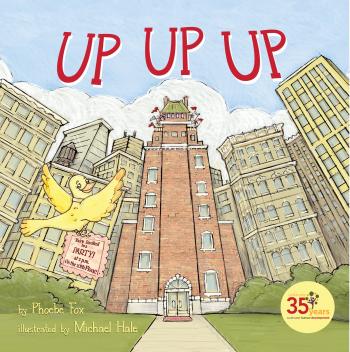 $13.99
Special Order - Subject to Availability
Description
---
When Mouse, Frog, Duck, Snake, Dog, Chimp, Seal, Sheep and Bear are invited to a birthday party on the 10th floor, the elevator seems to be the best way up, up, up.

This humorous story told mostly in pictures will delight the youngest of readers and adults alike.

The publisher, Southwest Human Development, is one of the nation's largest nonprofits dedicated to early childhood development. They are a leader in early literacy, distributing over 140,000 children's picture books annually to kids who do not have access to books. All proceeds from the sale of the book support early literacy programs.
About the Author
---
Phoebe Fox was born and raised in Phoenix, Arizona where she lives with her husband and three sons who she calls her inspiration. After graduating from the Barrett Honors College at Arizona State University, Fox completed her Masters degree in Curriculum and Instruction, also from ASU. She taught first grade before becoming a Library Media Specialist in the Tempe School District. She most recently worked as a librarian at Christ Church School in Paradise Valley. I write for young readers because I adore children's books and children, says Fox. If I can create a story that makes a child smile, laugh or nod his or her head in understanding, I feel as though I have helped them learn to love reading.
Praise For…
---
Up Up Up is the winner of the First Edition Project children's book manuscript contest.