You Can't Do That at Work: 100 Legal Mistakes That Managers Make In The Workplace (Paperback)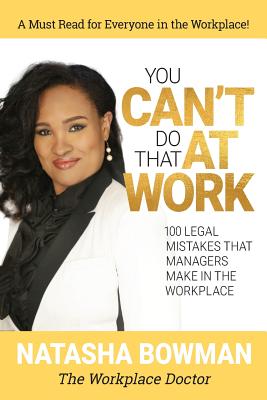 $24.99

Not Available In-Store - Usually Ships from Warehouse in 1-5 Days
Description
---
10 Years.
More than 1 MILLION employment discrimination claims filed against employers.
BILLIONS in damages.
Are you prepared?
Insightful, humorous and written to shed light on the easiest way for leaders, managers and employees to stay protected; YOU CAN T DO THAT AT WORK probes beyond the dry complexities and widely known maze of federal statues and HR regulations into the grey areas of discrimination law in a way that allows employers to course-correct, before facing billions in legal damages or the kind of irreparably tarnished reputation that leads to a slow workforce, low goal attainment and decreasing revenues.
In this groundbreaking book The Workplace Doctor Natasha Bowman, JD, SPHR, reveals the 100 of the most common, yet complex and costly violations seasoned and new leaders unknowingly make surrounding harassment, discrimination, disabilities, leaves and compensation disparities. Employers will love how quickly they receive critical answers to questions like:
How do I build a legally compliant, healthy, successful and inspired corporate culture where employees can thrive free of discrimination, harassment and improper conduct?
How do I protect my organization from costly litigation and reputation damage?
Employees will discover answers to questions like;
Is my situation truly discrimination?
Can my boss legally get away with bullying me?
Employers don t let an avoidable mistake ruin your company. Employees know your rights at work. Pick up this treasure to take a first step to a better workplace today.
About the Author
---
Natasha Bowman JD, SPHR is an international speaker, renowned trainer, professor, and legal academic. She has been leading organizations through the complex, fast-changing human resources landscape for over fifteen years. She has developed a reputation as an expert consultant and thought leader for organizations like The Heritage Foundation, Knowledge International, and Wiley Publishing and many others. Her expertise spans human resources management, talent management, employment law, organizational development, sourcing and recruiting, collective bargaining, and ethics and compliance. Because of her ability to diagnose workplace issues and provide proven solutions to organizations, she is often referred to as The Workplace Doctor. Apart from rich expertise and cross-sector experience, she brings an ardent intellectual commitment to the field. Her law degree has equipped her to guide million-person companies through HR crises by designing policies, training company leaders, directing investigations and keeping the pulse of emerging trends in employment and labor law. She is one of the most sought after speakers and teachers. She has spoken and taught at some of the prestigious corporate classroom and graduate business schools across the country such as: Fordham University, Walmart Stores Inc., Manhattan College, Northwell Health (formerly North Shore LIJ Health System) Georgetown University, and the Jack Welch Management Institute. She is often seen speaking for national industry professional associations such as SHRM, ATD, and BLR. Her expertise has been relied upon by media outlets such as Business Insider, Fast Company, and Glassdoor.com.