The Story of Climate Change: A first book about how we can help save our planet (Story of...) (Hardcover)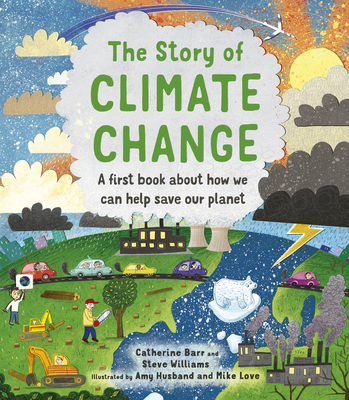 $19.99

Not Available In-Store - Usually Ships from Warehouse in 1-5 Days
Description
---
The Story of Climate Change introduces one of the most important issues facing our world today, and tells you what you can do to help make a change!
 
Combining history with science, this book charts the changes in our Earth's climate, from the beginnings of the planet and its atmosphere, to the Industrial revolution and the dawn of machinery. You'll learn all about the causes of climate change, such as factory farming and pollution, and the effects that climate change has on humans and animals across the world.
 
As well as discovering the effects of global warming, you'll discover practical ways we can work together to solve it, from using renewable energy to swapping meat for vegetables in our diet.
 
With fact-packed text by Catherine Barr and vibrant illustrations by Amy Husband and Mike Love, The Story of Climate Change will give you all the information you need, and will inspire you to do your part to fight the climate emergency!
 
About the Author
---
Catherine Barr worked at Greenpeace International for seven years as a wildlife and forestry campaigner and has a long-running interest in environmental issues. While working as an editor at the Natural History Museum, she researched and wrote two major summer exhibitions: Dinosaurs of the Gobi Desert and Myths and Monsters. Her previous books for Frances Lincoln Children's Books include The Story of Inventions, The Story of Life, and The Story of Climate Change. She lives on a hill near Hay-on-Wye in Herefordshire with her partner and two daughters.
Steve Williams is a biologist with a degree in Marine Biology and Applied Zoology from the University of Wales. His lifelong love of wildlife was further inspired by eight years at sea, after which he trained as a teacher, and now teaches science in a rural comprehensive school in Wales. He is a beekeeper and lives near Hay-on-Wye with his wife and two daughters.
Amy Husband studied Graphic Art at Liverpool School of Art. Her first picture book, Dear Miss, was winner of the Cambridgeshire Children's Picture Book Award in 2010, and she also wrote and illustrated Dear Santa, in the same series. Amy lives in the East Yorkshire countryside with her husband James, working from her home studio.
Mike Love is an illustrator from the UK. Since graduating from the Aberystwyth School of Art, Wales, in 2012, Mike has enjoyed being part of a wide variety of projects.
Praise For…
---
"The child-friendly design of this title makes it a good read-aloud."—Nancy Call, formerly at Santa Cruz P.L., Aptos, CA, School Library Journal

An "effective overview."
 —Kitty Flynn, The Horn Book