Moon Witch, Spider King (The Dark Star Trilogy #2) (Hardcover)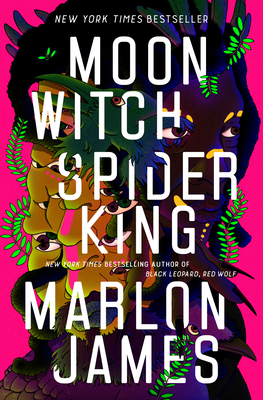 $30.00
Email or call for price.
Other Books in Series
This is book number 2 in the The Dark Star Trilogy series.
Description
---
"Masterfully flips the first installment on its head... James makes the mythic tantalizingly real.'" —Esquire
 
"Even more brilliant than the first." —Buzzfeed

An Instant New York Times Bestseller and NPR Best Book of 2022 pick
 
From Marlon James, author of the bestselling National Book Award finalist Black Leopard, Red Wolf, the second book in the Dark Star trilogy.

In Black Leopard, Red Wolf, Sogolon the Moon Witch proved a worthy adversary to Tracker as they clashed across a mythical African landscape in search of a mysterious boy who disappeared. In Moon Witch, Spider King, Sogolon takes center stage and gives her own account of what happened to the boy, and how she plotted and fought, triumphed and failed as she looked for him. It's also the story of a century-long feud—seen through the eyes of a 177-year-old witch—that Sogolon had with the Aesi, chancellor to the king. It is said that Aesi works so closely with the king that together they are like the eight limbs of one spider. Aesi's power is considerable—and deadly. It takes brains and courage to challenge him, which Sogolon does for reasons of her own.

Both a brilliant narrative device—seeing the story told in Black Leopard, Red Wolf from the perspective of an adversary and a woman—as well as a fascinating battle between different versions of empire, Moon Witch, Spider King delves into Sogolon's world as she fights to tell her own story. Part adventure tale, part chronicle of an indomitable woman who bows to no man, it is a fascinating novel that explores power, personality, and the places where they overlap.
About the Author
---
Marlon James is the author of the New York Times bestsellers Black Leopard, Red Wolf, which was a finalist for the National Book Award, and A Brief History of Seven Killings, which won the 2015 Man Booker Prize, as well as the novels The Book of Night Women and John Crow's Devil. A professor at Macalester College in St. Paul, Minnesota, he lives in New York City.
Praise For…
---
Praise for Moon Witch, Spider King:
 
"A rare sequel that is better than its predecessor. . . .Moon Witch, Spider King is a breathtaking book, one that functions as well as a standalone as it does a sequel. . . .Make no mistake, this series is absolutely a must-read." —NPR
 
"In the second book of his Dark Star trilogy, James coaxes beauty from dark thoughts, leaving readers with a concaved, mystical and African-inspired world that begins in free-fall. . . .In a world as thoroughly imagined as J.R.R. Tolkien's, no detail seems spared. Full figured and richly drawn, Moon Witch, Spider King is the bridge of a trilogy and also a creation that, like James' talent, stands alone." —Los Angeles Times
 
"Spectacularly alive. . . .James choreographs fight scenes that make Quentin Tarantino's movies feel comparatively tranquil. And there's a catalogue of diabolically ingenious creatures creeping along the ceilings, jumping from behind trees and even reaching through fourth-dimension portals to keep the pages simmering with terror. . . .Sogolon is a thrilling, haunting heroine." —The Washington Post
 
"In this ambitious new installment, James masterfully flips the first's plot on its head, probing the distance between two versions of the same events to ask powerful questions about truth, history, and storytelling." —Esquire

"James's imagination is vast and fiery, and his numerous fight scenes are heart-pumping and vivid. But what has stayed with me are his more subtle observations on the human condition. . . .The Moon Witch lit my path and showed me how a woman might navigate this dangerous, remarkable world. . . .When I finished the last page of Moon Witch, Spider King, I found my copy of Black Leopard, Red Wolf and started at the beginning." —The New York Times Book Review

"James is such a ferociously powerful and fast-paced storyteller that one rarely has time to worry about the grander scheme of the plot. . . .Galvanized by a vernacular writing style modeled on the oral tradition of African griots, the scenes are ribald, declamatory, and quick to confrontation. Events are so crazed and swirling they become almost hallucinatory. . . .is this trilogy's prodigious passions, and not any obvious narrative purpose, that make it so gripping." —The Wall Street Journal
 
"This is work that both meets the immersive worldbuilding standard in books by Tolkien and Martin and brings to the genre a voice unlike anything seen before. . . .If James managed to capture the imagination of readers with Black Leopard, Red Wolf, this second book, which is darker, longer, and better, does even more: It sets readers up for what will undoubtedly be a superb finale." —The Boston Globe

"More than 1,200 pages into James' trilogy, one thing is clear: Moon Witch, Spider King is even better than Black Leopard, Red Wolf. . . .Not only could you read Moon Witch, Spider King first without missing a beat; it might even be a better introduction to James' world."—AV Club

"[A] medieval feast of dazzling fantasy. It's vulgar and vivacious, big and brutal. . . .When I read the first book in this trilogy, I knew I was reading a genre-altering trilogy. . . .After reading Moon Witch, Spider King, I remain convinced that James is rebuilding the genre." —Minneapolis Star-Tribune

"A beautiful novel with well-developed characters enmeshed in a very real and terrifying fight, not only for their lives but also against a cycle of life that repeats from generation to generation. . . .It's impressive how much world-building and character development James manages in these pages." —San Francisco Chronicle
 
"Moving, vivid, and thought-provoking, this second book is, if anything, even more brilliant than the first." —Buzzfeed
 
"In the much-anticipated second installment…James has crafted yet another dark fantasy that blends history and mythology in an epic setting." —TIME
 
"Part adventure tale, part chronicle of an indomitable woman who bows to no man, [Moon Witch, Spider King] is a fascinating novel that explores power, personality, and the places where they overlap." – LGBTQ Reads