Paris for One and Other Stories (Hardcover)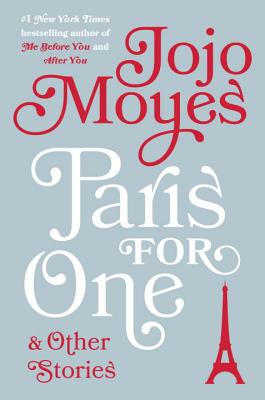 $25.00
Email or call for price.
Description
---
From the #1 New York Times bestselling author of Me Before You, After You, and Still Me,  Paris for One and Other Stories is an irresistibly romantic collection filled with humor and heart. 

"A vicarious jolt of Parisian romance. . . Delightful." –People Magazine

"An old-fashioned, feel-good love story. . . It's as if Moyes has booked a vacation and is taking us along. To Paris. Amour!" –USA Today
 
"Dreamy escapism, a book you can curl up with and easily finish over a weekend, with or without a glass of wine." –Miami Herald
 
Nell is twenty-six and has never been to Paris. She's never even been on a romantic weekend away—to anywhere—before. Traveling abroad isn't really her thing. But when Nell's boyfriend fails to show up for their mini-vacation, she has the opportunity to prove everyone—including herself—wrong.  Alone in Paris, Nell finds a version of herself she never knew existed: independent and intrepid. Could this turn out to be the most adventurous weekend of her life? Funny, charming, and irresistible, Paris for One is quintessential Jojo Moyes—as are the other stories that round out the collection.
About the Author
---
Jojo Moyes is the #1 New York Times bestselling author of Still Me, After You, Me Before You, One Plus One, The Girl You Left Behind, The Last Letter from Your Lover, Silver Bay, and The Ship of Brides. She lives with her husband and three children in Essex, England.
Praise For…
---
Praise for Paris for One and Other Stories:

"Moyes is in fine, cheeky form in this collection of short fiction, deploying the wit and charm that animates Me Before You and her other popular novels. The title novella offers a vicarious jolt of Parisian romance, while shorter stories deliver pithy insights into the joys and woes of marriage, ending with delightful twists." --People

"An old-fashioned, feel-good love story. . .  ["Paris for One" is] as light as a French pastry. It will make you smile and even, maybe, sigh. It's as if Moyes has booked a vacation and is taking us along. To Paris. Amour! . . . Think of these short fictions as palate cleansers after the sweet, tasty Parisian treat Moyes so deliciously serves up." –USA Today

"Paris for One and Other Stories. . . [is]  dreamy escapism, a book you can curl up with and easily finish over a weekend, with or without a glass of wine." –Miami Herald

"[A] charming novella. . . [and] a collection of short stories rounds out the work and adds up to an engaging way to spend fall's first chilly afternoon."—Good Housekeeping

"These stories are a treat—quick, short nibbles of Moyes' character genius, storytelling charisma, and writing grace, plus a new, intriguing format for the author, with the occasional surprising twist." --Kirkus Reviews

"Vibrant. . .Bold, humorous and genuine, the stories in this collection are classic Moyes." —Publishers Weekly

Praise for After You:

"Jojo Moyes has a hit with After You."—USA Today

"Think Elizabeth Bennet after Darcy's eventual death; Alice after Gertrude; Wilbur after Charlotte. The 'aftermath' is a subject most writers understandably avoid, but Moyes has tackled it and given readers an affecting, even entertaining female adventure tale about a broken heroine who ultimately rouses herself and falls in love again, this time with the possibilities in her own future.." —Maureen Corrigan, Fresh Air, NPR 

"The genius of Moyes . . . [is that she] peers deftly into class issues, social mores, and complicated relationships that raise as many questions as they answer. And yet there is always resolution. It's not always easy, it's not always perfect, it's sometimes messy and not completely satisfying. But sometimes it is." —Bobbi Dumas, NPR.org

"Charming."— People 

"Expect tears and belly laughs from Me Before You's much anticipated sequel." —Cosmopolitan

"Moyes is at her most charming here, writing with a sense of humorous affection about family dynamics among working-class Brits. . . a Maeve Binchy for the 21st century." —Kirkus Reviews

"[A] heart-tugger." —Good Housekeeping

"Like its predecessor [Me Before You], After You is a comic and breezy novel that also tackles bigger, more difficult subjects, in this case grief and moving on. . . . We all lose what we love at some point, but in her poignant, funny way, Moyes reminds us that even if it's not always happy, there is an ever after." —Miami Herald

"Once again, Moyes delivers a heart-wrenching and relatable book about love and loss that will stay with you long after you've finished." —InStyle.com
 
"Moyes wisely knows that life-changing events don't always change our lives for the better. . . . After You may not be the sequel you expect, but it is the sequel you needed." —Entertainment Weekly
 
"After You is an immersive experience, inviting readers back into the homes of the characters they fell in love with in Me Before You. They'll experience the mourning that follows a devastating loss, and the glimmers of hope that propel the brokenhearted forward." —BookPage  
 
"[After You] left me thrilled by the possibilities of fiction to entertain and inform, and astounded by [Moyes's] deep well of talent and imagination." —Bask magazine

Praise for Me Before You:

"A hilarious, heartbreaking, riveting novel . . . I will stake my reputation on this book." —Anne Lamott, People

"When I finished this novel, I didn't want to review it: I wanted to reread it. . . . An affair to remember." —The New York Times Book Review

"An unlikely love story . . . To be devoured like candy, between tears." —O, The Oprah Magazine

"Funny and moving but never predictable." —USA Today (four stars)

"Masterful . . . a heartbreaker in the best sense . . . Me Before You is achingly hard to read at moments, and yet such a joy." —New York Daily News

Praise for One Plus One:

"Safety advisory: If you're planning to read Jojo Moyes's One Plus One on your summer vacation, slather on plenty of SPF 50. Once you start the book, you probably won't look up again until you're the last one left on the beach. . . . [A] wonderful new novel." —The Washington Post

"Jojo Moyes' new novel One Plus One adds up to a delightful summer read, where the whole is greater than the sum of its charming parts. . . . Moyes' observations on modern life are dryly hilarious. . . . You don't need to be a math whiz to figure out this book is one worth adding to your summer reading list." —USA Today (four stars)

"Bridget Jones meets Little Miss Sunshine in this witty British romp from bestseller Moyes. . . . Wryly romantic and surprisingly suspenseful." —People

"Fans of the 2006 summer sleeper hit Little Miss Sunshine will find a lot to love in British author Jojo Moyes' latest, about a madcap road trip that's packed to the boot with familial drama, class clashes, and romance." —Entertainment Weekly (A-)

"No need to worry where this road trip is headed. Just sit back, roll down your window and enjoy being a passenger." —Cleveland Plain Dealer