Carry This Book (Hardcover)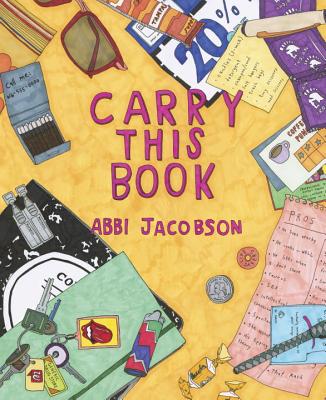 $25.00

Special Order - Subject to Availability
Staff Reviews
---
Admit it we're all a bit nebby. Don't you get curious about what's in people's huge bags that they carry? Really what would Oprah carry? Thanks to the imagination of Abbi Jacobson, star of Broad City, we can now have a glimpse in to bags of the likes of Martha Stewart, Banksy, Janis Joplin, and even Santa. I really enjoyed giggling my way through this book. I liked her view on what celebs and fictional characters may carry with them. What we carry with us really does say a lot about who we are and what we are planning or hoping to accomplish that day. If you like Broad City or are just feeling a little nebby give this book a once over.
—
Heather G.
Description
---
NEW YORK TIMES BESTSELLER

From the mind of Broad City's Abbi Jacobson, author of I Might Regret This, a wonderfully weird and weirdly wonderful illustrated look at the world around us—all through the framework of what we carry.

"Jacobson's art is warm, textured, and carefully composed, a little bit Maira Kalman and a little bit Roz Chast. It's also genuinely funny." —Vox

With bright, quirky, and colorful line drawings, Jacobson brings to life actual and imagined items found in the pockets and purses, bags and glove compartments of real and fantastical people—whether it's the contents of Oprah's favorite purse, Amelia Earhart's pencil case, or Bernie Madoff's suitcase.
 
How many self-tanning lotions are in Donald Trump's weekender? What's inside Martha Stewart's hand-knit fanny pack? What kind of protein bars does Michelle Obama hide in her tiny clutch at the White House Correspondents' Dinner? An instant New York Times bestseller, Carry This Book provides a humorous and insightful look into how the things we carry around every day make up who we are.
About the Author
---
Abbi Jacobson is one of the series creators, executive producers, and stars of Comedy Central's critically acclaimed hit show Broad City. She graduated from the Maryland Institute College of Art with a degree in fine arts and a minor in video. After graduating, Jacobson moved to New York City and began training at Upright Citizens Brigade Theater. She was an AOL Artist and has published three other books, I Might Regret This and the coloring books Color This Book: New York City and Color This Book: San Francisco. She was recently nominated by the Writers Guild of America for Best Comedy Series for Broad City. The third season of Broad City began airing on February 17, 2016 on Comedy Central.
Praise For…
---
"Abbi is a visionary. She is fiercely creative, and her voracious imagination is palpable on these pages. Her illustration is a world I want to literally jump into and live in, and I'm closer to it than ever before with Carry This Book. It's interactive and voyeuristic, and the most delicious part is seeing inside Abbi's curious, romantic mind."
—Ilana Glazer

"Using a comedic, ingenious blurring of reality and fantasy, Abbi has created a wondrous peek into secret worlds. Her work captures something essential about her subjects, allowing us to revel and delight in an imagined space. Carry This Book is visually enchanting and a joy to read."
—Carrie Brownstein

"Abbi is very smart. And she can write. And she can draw. She conquers all. Abbisolutely."
—Maira Kalman

"We've been asked what's in our wallets. We've been told what's in a name. Now Abbi looks at what's in the bags and suitcases of real and fictional people. Homer Simpson? Check. Michael Jordan? Check. Anna Wintour? Check. Looking at these illustrations and trying to guess who they belong to is like an inside-out game of Where's Waldo? You know what's amazing? After I was done reading, I emptied out my own Kipling bag, and this book was in it."
—Questlove

"The hilarious and lovely Abbi Jacobson is in book form. Fantastic!"
—Aziz Ansari

"Jacobson's art is warm, textured, and carefully composed, a little bit Maira Kalman and a little bit Roz Chast. It's also genuinely funny, and funny in a specifically visual way. Carry This Book has a conceit with just the right amount of quirk, and illustrations that have just the right amount of stylization."
—Vox

"The hilariously random illustration book every 'Broad City' fan needs . . . Her simple yet detailed style is reminiscent of a visual diary, as hilariously arbitrary as Lincoln's Al Dente Dentist blog, and just as heartening."
—The Huffington Post

"A sweet, satirical glimpse into the bags (and minds) of noteworthy figures . . . sweetly intimate . . . Jacobson is a clever and quirky illustrator who's equally disposed to feminist commentary and . . . humor."
—Rolling Stone

"This is the next best thing to being BFFs with Abbi Jacobson."
—Refinery29

"Jacobson, who studied fine arts at the Maryland Institute College of Art, renders each parcel with exquisite detail, making this a great addition to any queen's coffee table." 
—Real Simple

"What comes through in Carry This Book is that [Jacobson] had a lot of fun." 
—Vanity Fair

"Clinton is just one of the many powerful women's bags—ahem, Beyonce—that Jacobson illustrates in this colorful and oftentimes hilarious look at the imagined world of some of our favorite personalities."
—ET Online

"Carry This Book replicates that feeling of watching Jacobson's TV show that you already know her and are best friends. Throughout the book, Jacobson peppers in handbag-related advice both literal and figurative, including . . . that we all carry anger, love, regrets, hopes, etc. And even in short, funny captions, she expresses nuanced opinions. Considering her two-page spread gently ribbing self-help and guide books, Jacobson has presented one in the gentlest way possible. . . . You can schlep around your own insecurities, as long as you also take what you need."
—Jewcy

"Carry This Book expresses Jacobson's talents as a comedian and artist, in equal measure."
—Fast Company

"Easy Sunday afternoon page turning."
—Topshop

"[Hilarious] . . . playful and colorful . . . Looking inside the bags of real and even fictional people, such as Batman and Willy Wonka, via her illustrations is so visually entertaining, it's no wonder it's [a] best seller."
—The Jewish Week

"Carry This Book is chock-full of adorable, full-color marker and pencil drawings. . . . Jacobson says she searched the internet for real information about each person (did you know that Albert Einstein never wore socks?), which adds a wily touch to the book. What's real and what's made up? It's all part of the fun."
—KQED Arts

"Jacobson isn't just a comedy genius, she's also a talented illustrator. This book takes readers on an anthropological journey . . . Jacobson labels and annotates the detritus of her subjects with wry commentary on the secret worlds that are exposed by the things we carry around."
—BookPage