Everything Here Is Beautiful (Hardcover)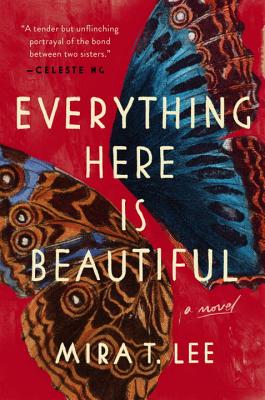 Staff Reviews
---
A debut author, Mira T. Lee manages more than a deftly-woven narrative here-- her novel also meditates, via multiple perspectives, on immigration, illness, and (perhaps most compellingly) other-ness. It is the direct access to Lucy's thoughts that proves to be the gem in Everything Here Is Beautiful. While other portrayals of individuals with mental illness often give in to reduction, trope, or monochrome, Lee's humanizes Lucy. At her highest point, Lee emphasizes the madness present in our everyday lives-- mental illness or not.
—
Caroline
February 2018 Indie Next List
---
"Everything Here Is Beautiful is a remarkable debut about two sisters and the strength of their bond. At the heart of this story is Lucia - a sister, mother, and woman who struggles with mental illness. Told from alternating points of view, Mira T. Lee gives an honest and emotional look at living with mental illness and its impact on not only your own life but the lives of those you love most. Captivating doesn't begin to cover this novel. You will find me eagerly waiting on the edge of my seat for the next book by this talented author."
— Kaitlin Smith, Copperfield's Books, Sebastopol, CA
Winter 2018 Reading Group Indie Next List
---
"What a well-written book delving into the difficult issue of mental illness. Each point of view is so well done, you end up taking the side of whoever's perspective you are currently reading. Wonderful discussion can be had in any book club that picks this up. Highly recommend."
— Nichole Cousins, White Birch Books, North Conway, NH
Summer 2019 Reading Group Indie Next List
---
"A very strong and moving portrait of two sisters with divergent lives that explores the power of family and the shared agony when things go wrong. Everything Here Is Beautiful is filled with an emotional lushness as well as a geographical one—the book goes from bustling New York City to the Ecuadorian countryside—providing a vivid and provocative backdrop for an emotionally intense story."
— Lisa Johnson, Penguin Bookshop, Sewickley, PA
Description
---
"A tender but unflinching portrayal of the bond between two sisters." —Celeste Ng, New York Times bestselling author of Little Fires Everywhere

"There's not a false note to be found, and everywhere there are nuggets to savor. Why did it have to end?" —O Magazine

"A bold debut. . . Lee sensitively relays experiences of immigration and mental illness . . . a distinct literary voice." —Entertainment Weekly

"Extraordinary . . . If you love anyone at all, this book is going to get you." —USA Today

A dazzling novel of two sisters and their emotional journey through love, loyalty, and heartbreak

Two Chinese-American sisters—Miranda, the older, responsible one, always her younger sister's protector; Lucia, the headstrong, unpredictable one, whose impulses are huge and, often, life changing. When Lucia starts hearing voices, it is Miranda who must find a way to reach her sister. Lucia impetuously plows ahead, but the bitter constant is that she is, in fact, mentally ill. Lucia lives life on a grand scale, until, inevitably, she crashes to earth.
 
Miranda leaves her own self-contained life in Switzerland to rescue her sister again—but only Lucia can decide whether she wants to be saved. The bonds of sisterly devotion stretch across oceans—but what does it take to break them?
 
Everything Here Is Beautiful is, at its heart, an immigrant story, and a young woman's quest to find fulfillment and a life unconstrained by her illness. But it's also an unforgettable, gut-wrenching story of the sacrifices we make to truly love someone—and when loyalty to one's self must prevail over all.
About the Author
---
Mira T. Lee's work has been published in numerous quarterlies and reviews, including The Missouri Review, The Southern Review, Harvard Review, and Triquarterly. She was awarded an Artist's Fellowship by the Massachusetts Cultural Council in 2012, and has twice received special mention for the Pushcart Prize. She is a graduate of Stanford University, and currently lives with her husband and two children in Cambridge, Massachusetts. This is her debut novel.
Praise For…
---
"There's not a false note to be found, and everywhere there are nuggets to savor. Why did it have to end?" —O Magazine

"A bold debut . . . Lee sensitively relays experiences of immigration and mental illness . . . a distinct literary voice." —Entertainment Weekly

"Extraordinary . . . If you love anyone at all, this book is going to get you." —USA Today

"Lee's debut novel is a profoundly relatable drama about how far you would, or should, go for family." —Marie Claire

"Sisterly ties take on brilliant nuance in Mira T. Lee's shattering debut about love, loss, psychosis, and what we owe ourselves and the family we love. . . beautifully written." —The Boston Globe

"This exquisite book is one that will hurtle past all your expectations." —Bustle

"Deftly dealing with big issues such as mental illness and immigration, this debut is a powerful look at love and family." —PopSugar

"[A] gorgeous yet heartbreaking debut." —Real Simple

"True to its title, everything about this book is beautiful. Lee's writing is magnificent—from her descriptions of love, family, and motherhood to her stunning portrayal of mental illness. It is the bond between sisters, however, that is the true gem of this story." —Lit Hub

"Lee's prose is economical, sharp, and piercing. But the reason I enjoyed this smarting book is for its sixth sense in portraying the bond between two sisters who are nothing like one another, and how that disparity can transition into distance. . . Lee has managed to write a book that feels wholly alive." —KQED

"Everything Here Is Beautiful is filled with unexpected, fragile moments of beauty." —Shelf Awareness

"[A] powerfully hopeful novel with characters that will stay with readers for a long time." —Bust

"[An] exciting debut about two sisters . . . the unpredictable changes of their lives, and the necessary sacrifices and important gifts that sisterhood brings." —Southern Living

"[A] promising debut. . . . Lee handles a sensitive subject with empathy and courage. Readers will find much to admire and ponder throughout, and Lucy's section reveals Lee as a writer of considerable talent and power." —Publishers Weekly

"An incredibly moving and thoughtful exploration of mental illness and its toll on family and loved ones [told] with empathy and tenderness." —Buzzfeed

"A truly stunning and emotional debut." —HelloGiggles

"[An] impressive debut . . . Everything Here Is Beautiful  finds the sweet spot between the truth and beauty of a disease that can inspire hope in the midst of sadness and frustration." —Seattle Times

"An evocative and beautifully written debut." —Kirkus Reviews

"Astonishing and imaginative. . . . This electrifiying first novel is wistful, wise and utterly unforgettable." —BookPage

"This debut novel is . . . the best kind of drama." —Newsday

"Impressive." —Seattle Times

"A powerful read about sacrifice and love." —Paste

"[A] tender, beautifully written novel." —Washington Independent Review of Books

"Intelligent, thought-provoking and moving—I loved it. I felt quite bereft on reading its final pages." —Paula Hawkins, #1 New York Times bestselling author of The Girl on the Train

"Everything Here Is Beautiful is a tender but unflinching portrayal of the bond between two sisters--one that's frayed by mental illness and stretched across continents, yet still endures. With ventriloquistic skill, Mira T. Lee explores the heartache of loving someone deeply troubled and the unbearable tightrope-walk between holding on and letting go." —Celeste Ng, New York Times bestselling author of Little Fires Everywhere and Everything I Never Told You

"Stunning and unforgettable. . . filled with voices that resonate and haunt. An intimately personal tale about family, self, and the risks we take to care for the ones we love." —Ruth Ozeki, New York Times bestselling author of A Tale for the Time Being

"Mira T. Lee deeply understands the human need for belonging, and in her compassionate debut, she presents an aching yet hopeful story of characters striving to belong despite vast impediments, and the emotional costs incurred in this quest for a love-filled life." —Imbolo Mbue, author of the PEN/Faulkner award-winning Behold the Dreamers

"A heartfelt story about sisters, family bonds, immigration, love, and an unvarnished look at how mental illnesses impact the lives of the person living with them and those who love and try to understand. . . In Mira T. Lee, mental health has found a new novelist champion." —Pete Earley, New York Times bestselling author of Crazy: A Father's Search Through America's Mental Health Madness

"A luminous testament of loss and reclamation and the painful necessity of love. . ." —Ron Powers, New York Times bestselling author of No One Cares About Crazy People: The Chaos and Heartbreak of Mental Health in America

"This heart-wrenching, delicately drawn novel is filled with family love, passion, pain and forgiveness. Mira T. Lee spins a story spanning oceans that draws us ever closer to her characters' generous, flawed hearts. Powerful and unforgettable." —Jean Kwok, New York Times bestselling author of Mambo in Chinatown

"This book took my breath away. Lee has an incredible gift for empathy--I found myself rooting for, and caring deeply about, all of characters, even when they couldn't stand each other. I especially commend her nuanced, compassionate depiction of mental illness and how it impacts families. Everything Here Is Beautiful is an insightful, generous celebration of our capacity and complexity as human beings." —Mark Lukach, internationally bestselling author of My Lovely Wife in the Psych Ward

"Everything about this book is beautiful. It's a sisters story, an immigrant story, and, more than a story of one family, it's an unflinching reflection of the fast-changing American Family." —Ron Fournier, New York Times bestselling author Love That Boy

"Everything Here is Beautiful vividly captures the kaleidoscope of emotional contradictions within our bonds to family and country. Mira T. Lee's powerful debut crafts an elegiac journey: uplifting, disturbing, and--proving its title--beautiful." —Matthew Pearl, New York Times bestselling author of The Last Bookaneer 
 
"Mira Lee has crafted an eloquent, vivid story not just of mental illness, but of passionate longing and family love in which there are no perfect choices but always a pulsing light of hope." —Lucy Ferriss, bestselling author of A Sister to Honor
 
"I was steadily drawn into this beautifully-written story of enduring love and family, however family is defined. Mira T. Lee's characters are captivating and very real, illustrating how intractable mental illness marks everyone in its sphere and renders the quotidian both beautiful and threatening. A compelling read." —Daphne Kalotay, bestselling author of Sight Reading
 
"Charismatic and electrifying. Lee makes vivid the messiness of life and the way we tie ourselves in knots just trying to do the simplest things: love and be loved in return. A knockout." —Rufi Thorpe, author of Dear Fang, With Love