You Will Not Have My Hate (Paperback)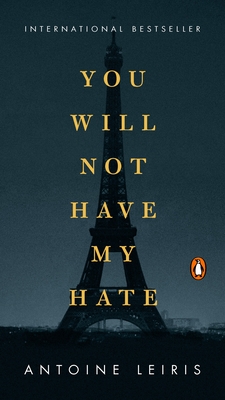 $15.00

Not Available In-Store - Usually Ships from Warehouse in 1-5 Days
Staff Reviews
---
As I try to figure out how to describe this book, I find that all of my words feel very small. What I want to do more than anything is just stand up and applaud Antoine Leiris for having the courage and strength to find such wonderful and devastating beauty within the crippling darkness of his own loss. After the death of his wife in the Paris terrorist attacks, Leiris offers us a profoundly intimate look at the shattering heartache of his grief and the quiet marvel of the life he keeps living. I think we all have lessons to learn from his example – his caring tenderness, his love in the face of hatred, his hope in the depths of despair. The world sorely needs more of this kind of light. With artful writing and searing honesty, this is a deeply moving and overwhelmingly emotional memoir, one that warmed my heart and broke it all at once.
—
Jason
November 2016 Indie Next List
---
"This slender tome began as a social media viral sensation. Shortly after the terrorist attacks in Paris in November 2015, a husband and father wrote an open letter to the perpetrators of those attacks, stating time and again that they would not have his hate, despite the fact that he lost his wife and the mother of their infant son. This memoir closely follows the hours after the attack, chronicling Leiris' thoughts and emotions for the next several days up through the funeral for his wife. Though brief, this is a powerful meditation on grief and resilience and the importance of building a legacy of forgiveness for his son."
— Emily Crowe (E), Odyssey Bookshop, South Hadley, MA
Description
---
INTERNATIONAL BESTSELLER - "On Friday night you stole the life of an exceptional person, the love of my life, the mother of my son, but you will not have my hate."

On November 13, 2015, Antoine Leiris's wife, Hélène Muyal-Leiris, was killed by terrorists while attending a rock concert at the Bataclan Theater in Paris, in the deadliest attack on France since World War II. Three days later, Leiris wrote an open letter addressed directly to his wife's killers, which he posted on Facebook. He refused to be cowed or to let his seventeen-month-old son's life be defined by Hélène's murder. He refused to let the killers have their way: "For as long as he lives, this little boy will insult you with his happiness and freedom." Instantly, that short Facebook post caught fire, and was reported on by newspapers and television stations all over the world. In his determination to honor the memory of his wife, he became an international hero to everyone searching desperately for a way to deal with the horror of the Paris attacks and the grim shadow cast today by the threat of terrorism.
 
Now Leiris tells the full story of his grief and struggle. You Will Not Have My Hate is a remarkable, heartbreaking, and, indeed, beautiful memoir of how he and his baby son, Melvil, endured in the days and weeks after Hélène's murder. With absolute emotional courage and openness, he somehow finds a way to answer that impossible question: how can I go on? He visits Hélène's body at the morgue, has to tell Melvil that Mommy will not be coming home, and buries the woman he had planned to spend the rest of his life with.

Leiris's grief is terrible, but his love for his family is indomitable. This is the rare and unforgettable testimony of a survivor, and a universal message of hope and resilience. Leiris confronts an incomprehensible pain with a humbling generosity and grandeur of spirit. He is a guiding star for us all in these perilous times. His message—hate will be vanquished by love—is eternal.
About the Author
---
Antoine Leiris is a journalist in Paris, and a former cultural commentator for France Info and France Bleu. You Will Not Have My Hate is his first book.

Translated from French by Sam Taylor, the author of The Republic of Trees, The Amnesiac and The Island at the End of the World. He has translated more than a dozen novels from the French, including Laurent Binet's HHhH and Maylis de Kerangal's The Heart.
Praise For…
---
"An extraordinary read, honest, intimate and lightly poetic. It is a testament of love, loss and grief and also the often untold story of those who are left behind and must find a way to go on"—Irish Independent

"A book of exceptional grace... the most extraordinary account of an emotional journey" – Observer

"All about love and loss…. An astonishing feat… I defy anyone not to shed tears at least once when reading this book." – Sunday Times

"You Will Not Have My Hate is a courageous and profoundly life affirming manifesto that will live beyond any momentary victory of terrorism. How indestructible these beautiful words are… A heartbreaking eulogy." –New York Journal of Books

"In a world of anodyne literature, Antoine Leiris's You Will Not Have My Hate stands out like a flare in the night… A work of pure grace… Ultimately a book about language and its necessity as a means not just of making sense of unspeakable tragedy, but of surviving it." — Interview Magazine

"Courageous and inspirational, without a wasted word." – Kirkus, starred review

"One of the most enduring and memorable messages after the deadly attack on Paris's Bataclan theater was written by journalist Antoine Leiris… This bracing, courageous, and utterly beautiful book shows us that he had much more to say." – 21 Must-Read Books for Fall, Elle.com

"This powerful one-sitting read speaks of a very specific grief to which many in the world feel connected."—Booklist