America Is Not the Heart: A Novel (Hardcover)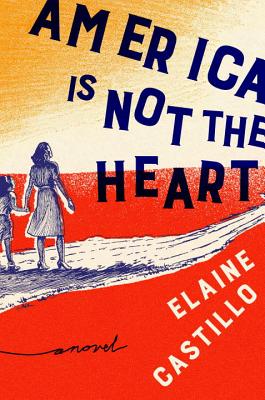 Staff Reviews
---
I absolutely loved this book, from the first sentence to the very end. Elaine Castillo is a debut author who already has a distinctive voice, writing with force and clarity, drawing a fully realized, complicated world of Filipino immigrants in the San Jose area in the early 1990s. Everything about this book resonates, from the tangled connections of families and relationships to the multiple phrases in untranslated Tagalog, Ilocano and Pangasinense. Overall this is a great story, filled with complex emotions, incredible writing, and characters that truly stay with you. Really you should just read it.
—
Dan
Description
---
Named one of the best books of 2018 by NPR, Real Simple, Lit Hub, The Boston Globe, San Francisco Chronicle, The New York Post, Kirkus Reviews, and The New York Public Library 

"A saga rich with origin myths, national and personal . . . Castillo is part of a younger generation of American writers instilling literature with a layered sense of identity." --Vogue

How many lives fit in a lifetime?

When Hero De Vera arrives in America--haunted by the political upheaval in the Philippines and disowned by her parents--she's already on her third. Her uncle gives her a fresh start in the Bay Area, and he doesn't ask about her past. His younger wife knows enough about the might and secrecy of the De Vera family to keep her head down. But their daughter--the first American-born daughter in the family--can't resist asking Hero about her damaged hands.

An increasingly relevant story told with startling lucidity, humor, and an uncanny ear for the intimacies and shorthand of family ritual, America Is Not the Heart is a sprawling, soulful debut about three generations of women in one family struggling to balance the promise of the American dream and the unshakeable grip of history. With exuberance, grit, and sly tenderness, here is a family saga; an origin story; a romance; a narrative of two nations and the people who leave one home to grasp at another.
About the Author
---
Elaine Castillo was born in the San Francisco Bay Area. She is a graduate of the University of California, Berkeley. America Is Not the Heart is her first novel.
Praise For…
---
Featured in * New York Magazine * Paris Review * Entertainment Weekly * Vogue * Elle * NPR * Marie Claire * Lit Hub * Shondaland * The Millions * Bust * Time Out * The Boston Globe * The New York Post * Vulture * Real Simple * PopSugar * Cosmopolitan * Southern Living * Buzzfeed * Refinery29 * The Rumpus * Mother Jones 
 
"Hungrily ambitious in sweep and documentary in detail, and reads like a seismograph of the aftershocks from trading one life for another . . . Like Bulosan, [Castillo] channels a righteous anger, revisiting America's historical crimes."
—The New York Times Book Review

"[A] powerful debut."
—Elle

"An impossible-to-put-down, multi-generational family epic."
—Southern Living 

"A lively, often hilarious family epic stretching from the villages of the Philippines to Northern California . . . A fierce, deeply affecting story of immigrant life in America."
—Marie Claire

"One of the best debut novels (and novels, period) of recent years." 
—Elle UK

"A stunning, powerful look at the American Dream; at family; at all the past lives we can't escape, no matter how far away we are from home. It's tender, touching, and impossible to put down."
—Shondaland

"This extraordinary debut novel follows Filipino immigrants as they settle into the Bay Area. . . . The writing in America Is Not the Heart is tremendous, the descriptions evocative, and the characters will stay with you."
—Vulture

"Elaine Castillo's blazing debut America Is Not The Heart springs alive from the first page. Her characters—Filipina and Filipina-American women living in San Francisco's South Bay—are Technicolor-vivid, flawed and heroic, and her prose is as good as it gets. Castillo's food writing will make your mouth water, and her love scenes will make your heart pound. Ambitious, sexy, sprawling and open-armed, America Is Not the Heart is the start of a phenomenal career."
—NPR

"[America Is Not the Heart] is filled to the brim with history and wit, and it's hard to shake the sense that by the time you turn the last page, the women have become your family, too."
—PopSugar

"First-time novelist Elaine Castillo interweaves English and Filipino dialects and moves across time to explore how hard it is to truly escape the past."
—Real Simple

"Castillo emerges as one of 2018's boldest new voices with this debut. In exquisite prose and with transporting sweep, she tells the story of three generations of Filipino immigrants making their way in the Bay Area while trying to preserve their family's complicated legacy."
—Entertainment Weekly

"A love story, a multi-generational family epic, and a deeply personal, lavishly painted portrait of lives in revision . . .With a sophistication rare in a first novel, Castillo recognizes a larger network of suffering—an understanding that trauma is, along with our mutual need for love, food, sex, and a coherent sense of self, one of humanity's least exclusive clubs . . . [America Is Not the Heart] has an offhand vitality that startles on every page with its compassion and humor."
—Megan O'Grady, Vogue

"I've been saying to everyone who will listen that this book is the next big thing—you heard it here first. My new favorite book, and maybe yours, too . . . This is Castillo's first novel, and it is masterful. It has drama and tragedy in spades, but it also has so much love of every kind spilling out of its pages that I closed it each night with a huge, warm smile. I might go home and read it again." 
—Eleanor Pritchett, The Paris Review 

"Flipping forward and back through time, Castillo challenges notions of home, critiquing class structures, exploring generational relationships, and examining cultural divides within the Filipino community, both overseas and in Milpitas, California. . . . This book has everything—war, love, family, displacement, and, of course, a Hero."
—Mother Jones

"Devastating and tender . . . [a] startlingly lovely first novel."
—Chicago Tribune

"This surging epic about three generations of Filipina women in the Bay Area conjures all the secret and not-so-secret wounds they carry into being Americans in a tale full of joy, anguish, and some of the best intimate scenes written in any genre all year."
—The Boston Globe 

"This family epic spanning from the Philippines to Milpitas, Calif., reads like a literary telenovela. It features a mysterious heroine, political upheaval and a sweeping romance. I couldn't put it down."
—The New York Post

"Quite simply one of the best first novels I've ever read. Not since Junot Diaz first emerged 20 years ago have I seen a writer shuffle so confidently between codes and languages as she builds a world, one full of love and heartache. Like Diaz's stories and first novel, Castillo's is a story of immigration and its costs, a meditation on brutality and where trauma goes, a love story, a friendship story, a family story, and its also a deeply funny story in moments. Laugh aloud funny, not book snort-through-your-nose-in-a-barely-audible-way funny. It's astonishing she fits it all in. I've watched friends who got this galley walk around in the days after reading it as if clubbed on the head, as in, how I'm supposed to read something new after this? For a while, you won't."
—Lit Hub

"Part love story, part multigenerational family tale, and part exploration of intersecting identities in the late-20th-century Bay Area, America Is Not the Heart is certainly not the first family saga to suggest that home is more than a place. The book's dynamic characters and beautiful, nuanced relationships, though, give the adage weight."
—Bust

"A really rich multigenerational story . . . it's about the self and family ties and feeling that pull back to where you came from and also exploring new things."
—Arianna Rebolini, Buzzfeed
 
"Beautiful, original, and heartbreaking."
—The Millions
 
"[An] important, engrossing novel."
—Bitch Magazine

"America Is Not the Heart is the sprawling, multi-generational family epic about immigration, national identity, and generational divides you need in your life . . . You won't want to miss out."
—Refinery29

"We haven't been this excited about a debut in a while. Especially one as timely as Elaine Castillo's. America Is Not the Heart is a beautiful and heartbreaking debut about love, family, identity, and the Filipino experience."
—HelloGiggles

"A recent turning point for me was listening to Filipino-American author Elaine Castillo at a reading. The immediacy of her prose held the room in a captivated silence. She reopened wounds for us by telling stories about first- and second-generation Filipino immigrant women, straight and queer. Hers is literature that speaks to our historical moment while it searches for a clearer retelling of the past."
—Los Angeles Review of Books

"My reading year has been characterized by sudden explosions in the midst of long dry spells. Without question the most powerful of these was Elaine Castillo's America Is Not the Heart—a gorgeous and gratifyingly huge novel about home and finding a home, replete with food and music and spiky tenderness."
—The White Review

"Castillo strikes a balance between humor and revelation: as Hero has it, America Is Not the Heart is 'funny, in that way of things being funny right before they dug deep, wrenched, and tore.'"
—THE Magazine

"Captivating . . . The novel is both a sweeping family saga, and a fervent reflection of the Filipinx-American borderlands. . . . Castillo uses fiction to reveal the influence of the past on the present and the role silence plays within our communities, creating a blueprint for seeing the complexities present in the intimacies of our daily lives."
—The Rumpus
 
"Hero is no ordinary heroine, and Castillo's novel is no simple story of self-discovery; instead, it's meditative, gorgeous, and surprising."
—Read It Forward 

"[The book] follows three generations of women from a family that immigrated from the Philippines to San Francisco, and it's a testament to the sacrifices we make for our loved ones."
—BookRiot

"South Bay author Elaine Castillo makes an impressive debut with this novel of race, gender and immigration."
—San Jose Mercury News 

"The creative accomplishments of this story are incredible: this unexpected family, this history, this embrace of the sacred and the profane, this easy humor, this deeply felt human-ness, this messy, perfect love story. Elaine Castillo is a masterful, heartfelt writer."
—Jade Chang
 
"Elaine Castillo's entrancing and magnificent debut is set to be a standout work of literature. Don't say you were not told. What a dazzling book!"
—NoViolet Bulawayo
 
"This glorious novel is a sharp, bracing, often hilarious family epic about a young woman tormented by the relentless ghosts of her past while in search of an American Dream that is not always available to those who seek it."
—Samantha Irby
 
"With the sheer propulsive power of her voice, Elaine Castillo blasts readers into her story."
—John Freeman
 
"Castillo's debut novel is particularly relevant in today's toxic political climate. A rich, challenging read."
—Library Journal
 
"Castillo's debut, a contemporary saga of an extended Filipino family, is a wonderful, nonpareil novel . . . a remarkable feat . . . a brilliant and intensely moving immigrant tale."
—Publishers Weekly (starred review)
 
"Castillo is a vivid writer, and she has a real voice: vernacular and fluid, with a take-no-prisoners edge. At the same time, she complicates her narrative by breaking out of it in a variety of places—both by deftly incorporating languages such as Tagalog and Ilocano and through the use of flashback or backstory . . . Beautifully written, emotionally complex, and deeply moving, Castillo's novel reminds us both that stories may be all we have to save us and also that this may never be enough."
—Kirkus (starred review)
 
"[A] raw and lyrical debut novel . . . Castillo's direct and urgent voice propels the sprawling epic with impressive skill. This unforgettable family saga is not to be missed."
—Booklist