The Dollhouse: A Ghost Story (Paperback)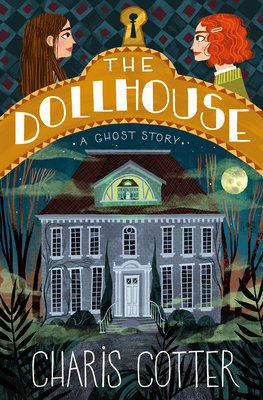 Staff Reviews
---
A wonderfully, haunting mystery, perfect for anyone who is intrigued by ghosts, likes surprises, but doesn't like to be scared. It's spooky, in a good way, and reminds me of my favorite ghost story from childhood, The Doll in the Garden by Mary Downing Hahn. I love how both books play with reality and time. If you also enjoy books like that, then you will love Cotter's The Dollhouse.
— From
Brandi's Picks (page 1)
Description
---
A creepy, mysterious dollhouse takes center stage in this atmospheric middle-grade mystery for fans of Doll Bones and Small Spaces.

Alice's world is falling apart. Her parents are getting a divorce, and they've cancelled their yearly cottage trip -- the one thing that gets Alice through the school year. Instead, Alice and her mom are heading to some small town where Alice's mom will be a live-in nurse to a rich elderly lady.

The house is huge, imposing and spooky, and everything inside is meticulously kept and perfect -- not a fun place to spend the summer. Things start to get weird when Alice finds a dollhouse in the attic that's an exact replica of the house she's living in. Then she wakes up to find a girl asleep next to her in her bed -- a girl who looks a lot like one of the dolls from the dollhouse . . .

When the dollhouse starts to change when Alice isn't looking, she knows she has to solve the mystery. Who are the girls in the dollhouse? What happened to them? And what is their connection to the mean and mysterious woman who owns the house?
About the Author
---
CHARIS COTTER grew up beside a cemetery and has been living with ghosts ever since. She studied English in university and went to drama school in London, England. She is the award-winning author of The Swallow: A Ghost Story, The Painting and The Ghost Road. Charis loves all the places that ghosts like to linger—old houses, cemeteries, forgotten paths and the wild Newfoundland coastline. She has worked extensively in schools and libraries from coast to coast, using drama and storytelling to bring her books to life. Her performances of Newfoundland ghost stories has thrilled audiences of all ages, from Florida to Vancouver Island. She lives at the end of a road beside the ocean, in one of the most haunted parts of Newfoundland.
Praise For…
---
"A time-traveling mystery that will keep readers involved and guessing up to the very end." —Kirkus Reviews

"The Dollhouse is a page-turner with an ingenious plot, evocative setting, enriching detail and lots of action that young readers will certainly enjoy." —CM: Canadian Review of Materials