Highly Illogical Behavior (CD-Audio)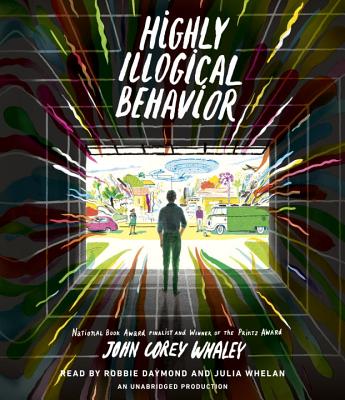 Staff Reviews
---
This book. This. Freaking. Book. As soon as I finished it, I took it to another coworker, shook it in her general vicinity and proclaimed to her just how good it was. Whaley is an exceptional storyteller, weaving together two different perspectives into one seamless plot. While this is the story of a boy with agoraphobia and panic disorder, Whaley does not use these character traits as crutches to further his plot--rather, this is a story about friendship and trust in the face of adversity. Read it, and you will absolutely not be disappointed.
—
Heather H.
Description
---
Teen and adult fans of All The Bright Places, Me and Earl and the Dying Girl, and Everything, Everything will adore this quirky story of coming-of-age, coming out, friendship, love...and agoraphobia.

Sixteen-year-old Solomon is agoraphobic. He hasn't left the house in three years, which is fine by him.

Ambitious Lisa desperately wants to get into the second-best psychology program for college (she's being realistic). But how can she prove she deserves a spot there?

Solomon is the answer.

Determined to "fix" Sol, Lisa thrusts herself into his life, sitting through Star Trek marathons with him and introducing him to her charming boyfriend Clark. Soon, all three teens are far closer than they thought they'd be, and when their walls fall down, their friendships threaten to collapse, as well. 

A hilarious and heartwarming coming-of-age perfect for readers of Matthew Quick and Rainbow Rowell, Highly Illogical Behavior showcases the different ways we hide ourselves from the world—and how love, tragedy, and the need for connection may be the only things to bring us back into the light.
About the Author
---
John Corey Whaley's first novel, Where Things Come Back, was the winner of the 2012 Printz Award and the 2012 Morris Award. His second novel, Noggin, was a 2014 National Book Award finalist. He lives in Newport Beach, California.
Praise For…
---
Now a School Library Journal Best Book of the Year!

"At a time when young adult literature is actively picking away at the stigma of mental illness, Whaley carves off a healthy chunk with style, sensitivity and humor. . . . ELECTRIFYING."—The New York Times Book Review

"Tender and funny."—People Magazine, Summer's Best Books of 2016

"Raw, funny, and unforgettable."—Buzzfeed
 
"A charming, heartwarming, and profound affirmation of the importance of connection."—The Huffington Post

"John Corey Whaley has never disappointed us before, and he carries on that tradition with his funny, heartfelt, and oh-so-JCW-style Highly Illogical Behavior."—Bustle

*"Solomon's descriptions of his anxiety are achingly real..Readers will easily come to care about these bright, wonderfully nerdy, flawed characters."—Kirkus Reviews, starred review

"Printz Award–winner Whaley (Where Things Come Back) again tackles heavy, heady topics with a light touch, populating his perceptive and quick-witted story with endearing, believably flawed teens."—Publishers Weekly, starred review

"The alternating narratives capture the perspective of the bright, witty, and decidedly quirky protagonists...A logical choice for Whaley's fans, Trekkies, and sensitive readers of all stripes."—School Library Journal, starred review



Praise for Noggin:
Noggin was a 2014 National Book Award Finalist, a 2015 Indies Choice Young Adult Honor book, and a Publishers Weekly Best Book of 2014!

"Noggin—outlandish as it is—has such wonderful resonance."—The New York Times

"You can practically feel this book's big, beautiful heart beating in your hands."—Matthew Quick, New York Times bestselling author of The Silver Linings Playbook

"A winner of a book."—A.S. King, author of Ask the Passengers and Reality Boy

"Noggin is everything a great book should be."—Andrew Smith, author of Grasshopper Jungle

"The voice of Travis Coates is like the voice of Holden Caulfield—iconic and ageless."—Holly Goldberg Sloan, New York Times bestselling author of Counting By 7s

*"A tour de force of imagination and empathy."—Booklist, starred review

*"Will resonate with teens who feel the same frustration at being treated like kids and told to act like adults." —Publishers Weekly, starred review

*"This insightful story explores the challenges of intimate relationships and managing expectations." —Shelf Awareness, starred review
 
Praise for Where Things Come Back:
Where Things Come Back was a Printz Award winner, Morris Award winner, a Time Best Young Adult Book of All Time, and a Publishers Weekly Best Book of 2011!

"Beautifully and carefully wrought, this is a very fine book."—Jenny Han, New York Times bestselling author of To All the Boys I've Loved Before

"Every now and then a book rises to the top. Where Things Come Back soars."—Ellen Hopkins, New York Times bestselling author of the Crank Trilogy

"Beautifully written and wholly original."—Ruta Sepetys, New York Times bestselling author of Between Shades of Grey

"It's a good story told remarkably well."—Maggie Stiefvater, New York Times bestselling author of the Raven Boys series

* "In this darkly humorous debut, Whaley weaves two stories into a taut and well-constructed thriller."—Publishers Weekly, starred review