A Tale of Two Brothers (Hardcover)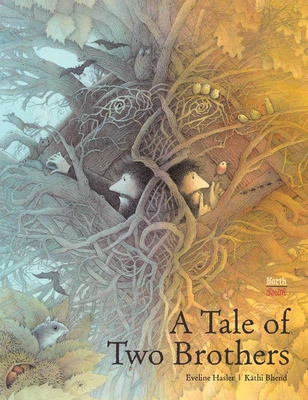 Staff Reviews
---
Marvelous illustrations paired with a timeless story. Follow two brothers as they make the same journey while their hearts are in very different places. One kind and considerate, one careless and brash. The creatures of the forest will reward them each with what they deserve. I love how the longer you examine each illustration, the more of the creatures reveal themselves.
— From
Gemma's Picks (page 2)
Description
---
Kindness makes the world go around.

Morris and Boris are brothers who look like twins—even down to the small humps on their backs. Morris is kind and helpful to everyone he meets. Boris is impatient and unkind. When Boris refuses to take his turn to go check on their hut in the woods, Morris volunteers to go rather than have an argument. The forest is enchanted: eyes peek out of every bush and rustling can be heard in the leaves. Morris takes care not to disturb or destroy animals and plants. Respecting nature with every step, he makes friends with tendrils, toadstools, and the forest itself. In the dark of the night, the tree spirits and forest witch give him something that he will never forget—they make his hump go away. When Boris sees his transformed brother he runs up the mountain. But instead of having reverence for the creatures around him, Boris tramples carelessly through the forest. Before long, the beings of the magic wood come forth. How will the mushrooms and the tender plant elves react? And what will the forest witch give him? Boris wonders why he has not been treated the same as his kind brother, but when Boris' own dog recoils in fear from his hand, he realizes he must change his ways.

Eveline Hasler and Käthi Bhend's classic tale—based on a legend from the Ticino region of Switzerland—is lovingly reprinted and ready for a new generation to enjoy.

"Bhend creates complex, wonderfully animistic landscapes, filled with both accurately rendered natural details, and hidden faces and forms woven into the underbrush."—Kirkus Reviews
About the Author
---
Eveline Hasler, born in Glarus, Switzerland, studied psychology and history in Friborg and Paris. She also worked as a teacher. Her many books for children are known throughout the world and have been honored with numerous international awards. Today Eveline lives and works in Switzerland, writing poetry and narrative works for adults.

Käthi Bhend was born in Olten, Switzerland. She studied commercial art and worked in advertising for several years. After winning a competition held by a Swiss publisher, she began illustrating children's books. Among other honors, her work was awarded the Premio Grafico award at the Bologna Children's Book Fair and received the Swiss Youth Book Prize in the same year (1990). Käthi has a passion for literature, art, music, and last but not least gardening. In 2019, Käthi was one of twenty-six Swiss artists honored at Switzerland's host country appearance in Bologna. Today she lives in Heiden, Switzerland.
Praise For…
---
The book's biggest appeal is its imaginative forest scenes, with detailed full-color and black-and-white illustrations bringing every sentient leaf and mushroom to life; tree trunks and flowers have faces, and branches intertwine in endless, often delicate, patterns. An engaging fable about the magic of kindness.
— Kirkus Reviews

"in the mold of a classic fairytale with an underlying message about personal values, and would make an excellent and popular addition to both school and community library picturebook shelves"
— Midwest Book Review

This story is derived from Swiss-Italian folklore and parallels American fables and fairytales that emphasize the importance of personal character and the outcomes associated with it. Children will find this ancient tale relatable and will recall people in their lives who resemble the siblings. The illustrations are intricately detailed, appearing in black and white with periodic profusions of color. Mysterious eyes are illusively hidden throughout the spreads, providing youth with a challenging opportunity to search for them. Those ages five to ten will most enjoy this timeless narrative.
— Portland Book Review