The Baseball Coaching Bible (The Coaching Bible) (Paperback)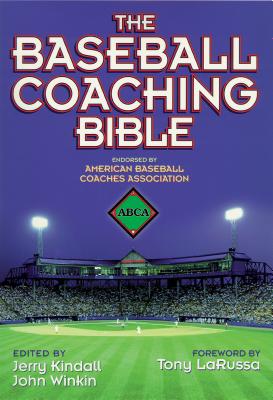 Description
---

Much more than a book on skills, strategies, or drills, The Baseball Coaching Bible represents a landmark work for the sport. Many of the greatest coaches the game has ever known—including Coaches of the Century at the high school, junior college, NAIA, and Division I, II, III levels, as named by Collegiate Baseball—combine to cover all aspects of coaching. The 27 contributing coaches share their keys to championship baseball, something they know well, having won 50 national titles and nearly 25,000 games.
The Baseball Coaching Bible covers every facet of coaching, with each coach addressing the subject he knows best. From Bobby Winkles' chapter on instilling hustle and Ron Polk's chapter on organizing a winning program, to Ed Cheff's chapter on innovative practices and Rod Dedeaux's chapter on establishing pride and tradition, The Baseball Coaching Bible transcends the Xs and Os.
The book's varied and vast amount of information allows you to pick and choose what you implement in your program in any particular season, but you will learn from and be entertained by it all. The wit and wisdom of baseball's sharpest minds shine through in their memorable stories and valuable insights.
Jerry Kindall and John Winkin organized and edited the contents. "The Impact of a Coach" by Dave Keilitz is a strong and fitting introduction. From there the book flows logically and swiftly through six sections:
- Coaching Priorities and Principles with chapters from John Scolinos, Chuck "Bobo" Brayton, Hal Smeltzly, Bob Smith, and Winkles.
- Program Building and Management with entries from Ken Schreiber, Mark Marquess, Ron Fraser, and Polk.
- Creative and Effective Practice Sessions composed of works by Ed Cheff, Danny Litwhiler, Winkin, Gary Pullins, and Tom House.
- Individual Skills and Team Strategies taught by Charlie Greene, Gary Ward, Jack Stallings, Bob Bennett, and Cliff Gustafson.
- Player Motivation and Leadership includes Skip Bertman, Gordie Gillespie, Andy Lopez, and Dedeaux.
- Off-the-Field Opportunities, Challenges, and Pressures, includes chapters from Glen Tuckett, Richard "Itch" Jones, and Kindall.
Endorsed by the American Baseball Coaches Association, The Baseball Coaching Bible is sure to be a staple in every serious baseball coach's library. And like coaching and the game itself, the book's appeal will keep drawing you back again and again.

About the Author
---
Jerry Kindall coached 24 years and posted a 860-580 record at the University of Arizona, where he was the winningest coach in the university's history. He led the Wildcats to three NCAA Division I National Championship titles (1976, '80, and '86), and was named National Coach of the Year after each of those seasons. He was inducted into the ABCA Hall of Fame in 1991 and served as USA Baseball's Senior Advisor to the National Team. Kindall played eight years in the major leagues with the Chicago Cubs, Cleveland Indians, and Minnesota Twins.
Jerry Kindall passed away in 2017.
John Winkin coached for 42 years in Maine, first at Colby College (1954-1974) and then at the University of Maine (1974-1996). He amassed a 943-670 career record and appeared in 12 NCAA Regional Tournaments and 6 College World Series. Winkin received the College Division Coach of the Year award in 1965 and the prestigious Lefty Gomez award in 1986. He is a member of the ABCA Coaching Hall of Fame, Maine Baseball Hall of Fame, and the Maine Sports Hall of Fame. He currently has a fellowship in sports leadership at Husson College.
Praise For…
---

"The Baseball Coaching Bible is a must read for any person serious about the game of baseball. I especially found the pitching section to be outstanding and informative."
Ed Lynch
Chicago Cubs General Manager

"The years of experience assembled in one book is simply an invaluable asset for coaches, players, and parents."
Marty Bystrom
Former National League pitcher
Philadelphia Phillies
New York Yankees