Survival Guide for Coaching Youth Baseball (Paperback)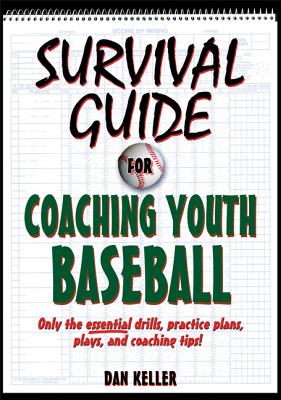 Description
---
You volunteered to coach the local baseball team, but are you ready? How will you teach the fundamental skills, run effective practices, and harness the energy of your young team? Fear not: Survival Guide for Coaching Youth Baseball has the answers.
In Survival Guide for Coaching Youth Baseball, longtime coach Dan Keller shares his experiences and provides advice you can rely on from the first practice to the final game. From evaluating players' skills and establishing realistic goals to using in-game coaching tips, it's all here—the drills, the strategies, and most important, the fun!
Develop your team's fielding, catching, throwing, pitching, and hitting skills with the Survival Guide's collection of the game's best youth drills that young players can actually use. Best of all, you'll be able to get the most out of every practice by following the ready-to-use practice plans.
Survival Guide for Coaching Youth Baseball has everything you need for a rewarding and productive season.
About the Author
---
Dan Keller is the president and owner of Lifeletics Sports Instruction in Huntington Beach, California. A lifelong student of the game of baseball, with a particular interest in pitching, he started Lifeletics in 2001 and has built it into a household brand providing world-class fundamental training with an emphasis on positive character development and the life lessons learned through athletics.
Keller experienced athletic success from youth baseball through the collegiate ranks and was drafted by the Baltimore Orioles in 1995. Since 2000 he has worked as a private pitching instructor for youth league and professional athletes. His team coaching resume includes work with competitive youth teams and teams at all levels of high school play.
Keller's work has been featured extensively in Collegiate Baseball Newspaper, Junior Baseball Magazine, and several online publications. He's also a frequent instructor for a number of youth clinics. In his free time he enjoys staying active by hiking and playing basketball, softball, and golf. Keller lives in California with his wife, Erin.
Praise For…
---
"Survival Guide for Coaching Youth Baseball is a great way to begin your season. By providing the key essentials, this book will help you succeed with your players and team."
—John Savage,UCLA Head Baseball Coach
"Survival Guide for Coaching Youth Baseball is a must-read for all youth baseball coaches. Using simple practice plans and fundamental skills sets, Dan Keller makes practice fun for coaches and players alike."
-Abe Key,President and CEO, PONY Baseball
"Survival Guide for Coaching Youth Baseball takes the guesswork out of coaching and gets everyone on the same page."
-David Kloser, Mental Game Coach, Author of Stepping Up to the Plate: Inspiring Interviews with Major Leaguers