The Dust of 100 Dogs (Paperback)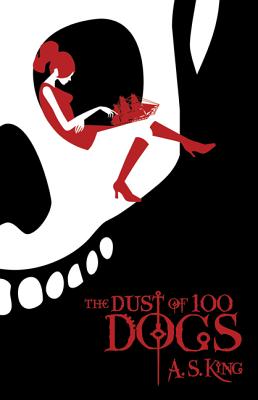 Spring '09 Kids List
---
"This creative and sparkling original tale is absolutely gripping, beginning in the 17th century and spans 300 years of the life of famous pirate Emer Morrisey. Oh yeah, did I mention that the 300 years, that is how long it took Emer to live the lives of 100 dogs, a curse put upon her after her human existence was slain? A Very cool story."
— Rob Dougherty, Clinton Book Shop, Clinton, NJ
Description
---
A Spring 2009 Children's Indie Next List Pick for Teens
In the late seventeenth century, famed teenage pirate Emer Morrisey was on the cusp of escaping the pirate life with her one true love and unfathomable riches when she was slain and cursed with "the dust of one hundred dogs," dooming her to one hundred lives as a dog before returning to a human body-with her memories intact.
Now she's a contemporary American teenager and all she needs is a shovel and a ride to Jamaica.
Exciting, fascinating, spellbinding. I'd follow Saffron into the briny deep
.
--
Heather Brewer, author of The Chronicles of Vladimir Tod
A non-traditional pirate tale with a dangerously raw, mystical edge and a unique modern twist. Deliciously fresh and starkly unforgettable.
--
Lisa McMann,
New York Times best-selling author of Wake
Sparkling, original, both swashbuckling and contemporary...This gripping adventure is sure to be devoured by both teens and adults.
--
Lauren Baratz-Logsted,
author of Angel's Choice
AUTHOR INTERVIEW INSIDE THE BOOK
About the Author
---
A.S. King has been profiled in Writer's Digest magazine and is a member of the Assembly on Literature for Adolescents (ALAN) and the Society of Children's Book Writers and Illustrators (SCBWI). She was a finalist for the Washington Square fiction contest and Glimmer Train Very Short Fiction Award in 2007, and her writing has been nominated for the 2008 storySouth Million Writers Award and the Best New American Voices 2010 anthology. A citizen of both Ireland and the U.S., King's short fiction, poetry and nonfiction have been featured in the Sunday Times Magazine (Dublin edition), the Sunday Tribune Magazine, and iVillage, as well as in several literary journals including Quality Women's Fiction, Underground Voices, and Contrary. She now lives in Pennsylvania with her husband and children. The Dust of 100 Dogs is her debut novel. Visit King online at www.as-king.com or www.thedustof100dogs.com for more information.