Creepiosity: A Hilarious Guide to the Unintentionally Creepy (Paperback)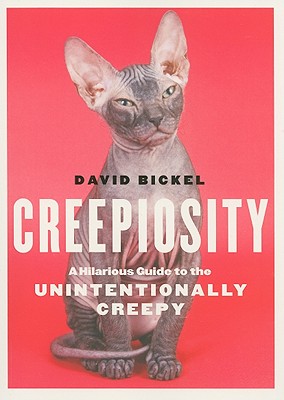 Staff Reviews
---
What creeps you out? This laugh-out-loud gift book points out things from the oddball to the everyday that will make you giggle with recognition. Making the list are hairless cats, "grandma candy," really long hair and lifelike baby dolls. Once you start reading, you can't look away! - Sarah B.
— From
Humor / Gift Books (page 1)
Description
---
Grown men in Boy Scout uniforms, old ladies with really long hair . . . this hilarious book will creep you out.

In his hilarious yet disturbing (because it's so true) book Creepiosity: A Hilarious Guide to the Unintentionally Creepy, comedy writer David Bickel presents readers with 100 of the most unsettling everyday things, such as grown men in Boy Scout uniforms, old ladies with really long hair, fish with people faces, lifelike baby dolls, and much more.

Bickel infuses each subject with comedic insight into what exactly makes it creepy and provides an appropriately hilarious photo to help illustrate his point. And since not all creepiness is created equal, Bickel has invented an unnecessarily complex mathematical formula (or Creepiosity Index, if you will) to quantify each unsettling item's relative creepiness. (Band-Aids that were once affixed to someone's body but now aren't: 7.454.)

However, Bickel also acknowledges that creepiness, universal as it may be, is far from absolute. To that end, he invites readers to assign their own Creepiosity number to these and other curiosities via a companion Web site. (For example, what's more disturbing, hairless cats or Dick Cheney smiling? You decide!)
About the Author
---
 Besides being one of the world's most respected creepiologists, David Bickel is a writer and producer who has been working in television since Clinton was president. His credits include Hiller and Diller starring Richard Lewis and Kevin Nealon, and a nine-year stint on the Emmy-nominated show The King of Queens. He recently created the series MotorCity for the Walt Disney Company.
Praise For…
---
"One home run after another." — Bob & Tom, The Bob & Tom Show



"I couldn't put it down for two hours." — Mark and Brian, 95.5 KLOS, Southern California



"Finally, comedy written by a Jew!" — Patton Oswalt, comedian, actor, writer



"David Bickel, after a lifetime of research, has created a masterpiece. Creepiosity is the perfect book to read when you're lettin' the possum out."
—Kinky Friedman, musician, writer, humorist, politician