Encyclopedia of White Power: A Sourcebook on the Radical Racist Right (Hardcover)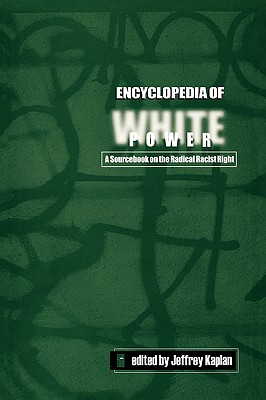 $99.95
Email or call for price.
Description
---
"The demonization of the radical right ill serves us when now, more than ever before, it is vitally important to know all we can about this esoteric milieu's nature and potentialities...by...demonizing the many, we cloak the few, and, however unwittingly, facilitate the existence of evil in the world." --From the Introduction by Jeffrey Kaplan White power groups are universally vilified and feared. But to better understand the threat they pose, scholars and activists must try to better understand their disturbing ideas and practices. In this controversial volume, Jeffrey Kaplan brings to light the workings of white supremacy movements in the United States and Europe in the years since World War II. The first half of the Encyclopedia is made up of over 100 entries--many of them essay-length--describing the people, groups and themes that make up the radical racist right. Some of the entries are written by movement activists themselves, providing useful insider accounts. The second half contains original resources circulated within the movement, each prefaced and placed in scholarly context by the editor. These documents, although offending, are invaluable to researchers and often available nowhere else. Cross-references and an index make the information easily accessible. For scholars of race, religion, politics or social movements, the Encyclopedia of White Power is an essential resource.
About the Author
---
Jeffrey Kaplan is the author of Radical Religion in America: Millenarian Movements From the Far Right to the Children of Noah; The Emergence of an Euro-American Radical Right (Co-author); Beyond The Mainstream: The Emergence Of Religious Pluralism In Finland, Estonia And Russia; and is co-editing the Encyclopedia of Religion and Nature and The Cultic Mileu Reconsidered. He has published several anthologies as well as a number of articles on the far right and other millenarian movements in Syzygy, Christian Century and Nova Religio. He is currently teaching at the University of Wisconsin, Oshkosh and is working with The Stockholm International Forum on Conscience and Humanity: Combating Intolerance for the government of Sweden.