1215: The Year of Magna Carta (Paperback)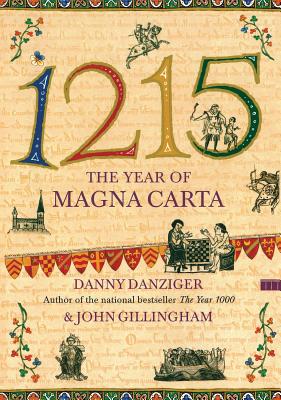 $20.99

Not Available In-Store - Usually Ships from Warehouse in 1-5 Days
Description
---
From bestselling author Danny Danziger and medieval expert John Gillingham comes a vivid look at the signing of the Magna Carta and how this event illuminates one of the most compelling and romantic periods in history.

Surveying a broad landscape through a narrow lens, 1215 sweeps readers back eight centuries in an absorbing portrait of life during a time of global upheaval, the ripples of which can still be felt today. At the center of this fascinating period is the document that has become the root of modern freedom: the Magna Carta. It was a time of political revolution and domestic change that saw the Crusades, Richard the Lionheart, King John, and—in legend—Robin Hood all make their marks on history.

The events leading up to King John's setting his seal to the famous document at Runnymede in June 1215 form this rich and riveting narrative that vividly describes everyday life from castle to countryside, from school to church, and from hunting in the forest to trial by ordeal. For instance, women wore no underwear (though men did), the average temperatures were actually higher than they are now, and the austere kitchen at Westminster Abbey allowed each monk two pounds of meat and a gallon of ale per day. Broad in scope and rich in detail, 1215 ingeniously illuminates what may have been the most important year of our history.
About the Author
---
Danny Damziger was brought up in England and America. Now an award- winning columnist for The Sunday Times, he is the author of eight books, including the bestselling Eton Voices and The Year 1000. He is currently writing a book on the Metropolitan Museum of Art.

John Gillingham is professor of history at the London School of Economics and the author of a number of highly regarded academic works on the Middle Ages, as well as the popular history Medieval Britain: An Introduction.
Praise For…
---
"Entertaining and informative...Even more enjoyable than the account of the Magna Carta itself is the depiction of who we were in the crucial year of 1215."
-- Antonia Fraser, Mail on Sunday

"Brimming with period detail."
-- The Washington Post

"This is an excellent slice of popular history which has 'bestseller' written all over it."
-- Sunday Express

"In 13th-century England, it was bad manners for lords to pick fleas from their breeches during meals. Urinating in the dining hall was likewise frowned upon, 'unless you were the head of the household.'... Such nuggets abound in this small volume, which doubles as a brilliantly concise history of the Magna Carta... Students of history, and of engaging writing, should hope for further installments."
-- Dallas Morning News