Women and Work: Feminism, Labour, and Social Reproduction (Mapping Social Reproduction Theory) (Paperback)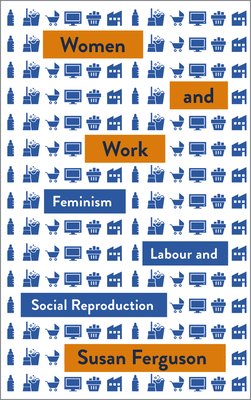 $25.95

Not Available In-Store - Usually Ships from Warehouse in 1-5 Days
Description
---
"A masterful analysis of three centuries of feminist deliberations on work, carefully tracing how the fault lines of social-reproduction theory emerged."—Historical Materialism  
 
Feminism is once again on the political agenda. Across the world women are taking to the streets to protest unfair working conditions, abortion laws, and sexual violence. They are demanding decent wages, better schools and free childcare.
 
But why do some feminists choose to fight for more women CEOs, while others fight for a world without CEOs?
 
To understand these divergent approaches, Susan Ferguson looks at the ideas that have inspired women to protest, exploring the ways in which feminists have placed work at the center of their struggle for emancipation. Two distinct trajectories emerge: "equality feminism" and "social reproduction feminism." Ferguson argues that socialists have too often embraced the "liberal" tendencies of equality feminism, while neglecting the insights of social reproduction feminism. Engaging with feminist anti-work critiques, She proposes that women's emancipation depends upon a radical reimagining of all labor and advocates for a renewed social reproduction framework as a powerful basis for an inclusive feminist politics. Chapters here include;
 
*The Rational-Humanist Roots of Equality Feminism
*Socialist Feminism: Two Approaches to Understanding Women's Work
*Equal Work for and against Capital
*Anti-Racist Feminism and Women's Work
*A Political Economy of 'Women's Work': Producing Patriarchal Capitalism
*Renewing Social Reproduction Feminism
*The Social Reproduction Strike: Life-Making Beyond Capitalism
 
Women and Work offers a timely and important look at the intersectionality of feminism and workers rights. Scholars and students will both find valuable insights into the history of feminist theory and social movement.
About the Author
---
Susan Ferguson is Associate Professor at Wilfrid Laurier University, Canada, teaching Youth and Children's Studies and Digital Media and Journalism.
Praise For…
---
'Susan Ferguson's attention to labour in the history of feminist thought is timely and urgent as is her attention to capital's intensified harvest from the devalued work of social reproduction. Scholars and students across disciplines will find here valuable insights into the history of feminist theory and social movement'
Rosemary Hennessy, Professor of English and Director of the Center for the Study of Women, Gender, and Sexuality at Rice University

'Susan Ferguson has been a leader in the efforts to develop social reproduction theory. In this book, she takes on the historical context for its development. Her focus on the history of 'labour' in Marxist and feminist thought brilliantly reshapes our understanding of the concept and its role in analysing our past, present, and future'
Lise Vogel, author of 'Marxism and the Oppression of Women'

'Susan Ferguson has been a leader in the efforts to develop social reproduction theory. With Feminist Thinking About Work, she now takes on the historical context for its development. Her focus on the history of the concept 'labour' in Marxist and feminist thought brilliantly reshapes our understanding of our past, present, and future.'
 
— Lise Vogel, author of "Marxism and the Oppression of Women"

'Susan Ferguson's attention to labor in the history of feminist thought is timely and urgent as is her attention to capital's intensified harvest from the devalued work of social reproduction. Scholars and students across disciplines will find here valuable insights into the history of feminist theory and social movement.'
— Rosemary Hennessy, Professor of English and Director of the Center for the Study of Women, Gender, and Sexuality at Rice University

'Shines a searching light on the interactions between class, race and gender in the reproduction of contemporary global capitalism. This book marks a milestone in socialist feminist theory.'
— Ursula Huws, author of 'Labour in Contemporary Capitalism: What Next?'

'Through an innovative interpretation of key historical and contemporary feminist texts, this compellingly written book offers socialist-feminist activists an excellent introduction to social reproduction theory and its political implications.'
— Johanna Brenner, author of Women and the Politics of Class

'A crucial and much needed book. Analyzing more than two hundred years of feminist theorizing on work and oppression, Ferguson rigorously unpacks the dilemmas we face when we fail to problematize what work is, and what it should be to bring about freedom. Essential reading for socialist feminists.'
— Sara Farris, author of In the Name of Women's Rights: The Rise of Femonationalism