The Point is to Change the World: Selected Writings of Andaiye (Black Critique) (Paperback)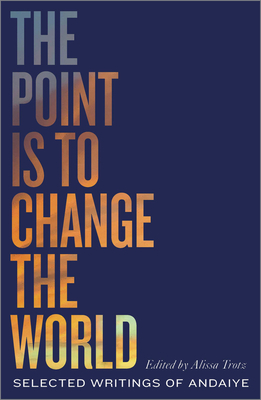 $31.95

Not Available In-Store - Usually Ships from Warehouse in 1-5 Days
Description
---
Radical activist, thinker, comrade of Walter Rodney, Andaiye was one of the Caribbean's most important political voices. For the first time, her writings are published in one collection.

Through essays, letters and journal entries, Andaiye's thinking on the intersections of gender, race, class and power are profoundly articulated, Caribbean histories emerge, and stories from a life lived at the barricades are revealed. We learn about the early years of the Working People's Alliance, the meaning and impact of the murder of Walter Rodney and the fall of the Grenada Revolution. Throughout, we bear witness to Andaiye's acute understanding of politics rooted in communities and the daily lives of so-called ordinary people. 

Featuring forewords by Clem Seecharan and Robin DG Kelley, these texts will become vital tools in our own struggles to 'overturn the power relations which are embedded in every unequal facet of our lives'.
About the Author
---
Andaiye (1942 -2019) was a Guyanese social, political, and gender rights activist, who has been described as a transformative figure in the region's political struggle. She was an early member of the executive of the Working People's Alliance (WPA) in Guyana, alongside Walter Rodney. A founding member of the women's development organization Red Thread in Guyana in 1986, Andaiye was also an executive member of the Caribbean Association for Feminist Research and Action (CAFRA).
Praise For…
---
"It is not an exaggeration to say that this volume will occupy a vaunted place alongside the writings of C. L. R. James, Frantz Fanon, Aime Cesaire, Sylvia Wynter, Edouard Glissant, George Lamming, Kamau Brathwaite, Stuart Hall, and certainly Walter Rodney. And like her distinguished predecessors, Andaiye and her brilliant collaborator, Alissa Trotz, did not put this book together in order to gather dust in a library. The title says it all: The Point is to Change the World' - Robin D.G. Kelley, author of 'Freedom Dreams: The Black Radical Imagination'

"Andaiye was the most important Caribbean woman intellectual-activist of the generation of Walter Rodney. Her subtle, river-clear, loving and angry intelligence is rescued here, and with it the memory of the political struggles of the 1970s and 80s in which a critical feminism emerged from the ruins of the Black Power moment" - Richard Drayton, Rhodes Professor of Imperial History at King's College London

"This collection is a benchmark for the study of the Caribbean radical imagination" - Clem Seecharan

"A comprehensive assessment of Andaiye's journey of personal, political and professional growth. Notwithstanding her privileged position, she was a resolute advocate for working-class women. Her legacy as a Caribbean activist and strategist is formidable" - Patricia Rodney, Chair of the Walter Rodney Foundation

'A comprehensive assessment of Andaiye's journey of personal, political and professional growth. Notwithstanding her privileged position, she was a resolute advocate for working-class women. Her legacy as a Caribbean activist and strategist is formidable'
— Patricia Rodney, Chair of the Walter Rodney Foundation

'What is remarkable about Andaiye's book, like Andaiye herself, is its liveliness, its accessibility and its unpretentiousness as it offers a thoughtful and compelling portrait of a period and a place that is often overlooked in discussions of the global south'
— Honor Ford-Smith, founding Artistic Director of the Sistren (Sisters) Theatre Collective and author of 'My Mother's Last Dance'

'It is not an exaggeration to say that this volume will occupy a vaunted place alongside the writings of C. L. R. James, Frantz Fanon, Aime Cesaire, Sylvia Wynter, Edouard Glissant, George Lamming, Kamau Brathwaite, Stuart Hall, and certainly Walter Rodney. And like her distinguished predecessors, Andaiye and her brilliant collaborator, Alissa Trotz, did not put this book together in order to gather dust in a library. The title says it all: The Point is to Change the World'
— Robin D.G. Kelley, author of 'Freedom Dreams: The Black Radical Imagination'

'This collection is a benchmark for the study of the Caribbean radical imagination'
— Clem Seecharan, Emeritus Professor of History at London Metropolitan University and author of 'Sweetening "Bitter Sugar": Jock Campbell, the Booker Reformer in British Guiana, 1934-66'

'Andaiye was the most important Caribbean woman intellectual-activist of the generation of Walter Rodney. Her subtle, river-clear, loving and angry intelligence is rescued here, and with it the memory of the political struggles of the 1970s and 80s in which a critical feminism emerged from the ruins of the Black Power moment' 
— Richard Drayton, Rhodes Professor of Imperial History at King's College London