The Wisdom of the Rooms: 12 Months of Reflections for People in Recovery (Paperback)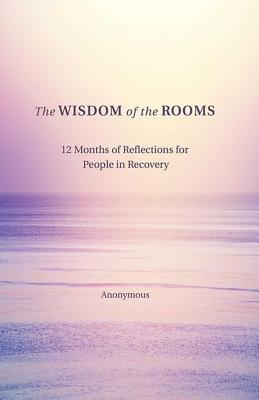 $17.95

Special Order - Subject to Availability
Description
---
This is more than just daily meditation book—this is a book of Twelve Step quotes and daily reflections that come right from the meeting rooms of recovery. These are the 'Aha' moments shared by people in the program, like: "Humility is not thinking less about yourself, but rather thinking about yourself less." Each timeless piece of practical recovery wisdom like this is followed by a three-paragraph reflection of "What it was like, what happened, and what it's like now." The most loved recovery quotes, across our Twelve Step programs are here: "There are no victims, only volunteers—you always have a choice," and they instantly offer the perspective we need to keep growing along spiritual lines. Fill your spiritual toolkit with your favorite quotes, "Once you change the way you look at things, the things you look at change," and see why these unique quotes resonate deeply with members—because they come directly from the meeting rooms of recovery. These quotes—by newcomers as well as old timers—offer people in recovery the experience, strength, and hope, they need, just when they need it: one day at a time. This book will remind you that "It is what it is, but it will become what you make it."
The 365 Twelve Step Quotes collected here are the ones we hear in meetings, the quotes and sayings that offer us instant relief and revelation—the ones we wish we had written down and saved. Now you have them all at your fingertips. Quotes like, "We go to meetings for relief; but we work the Steps for recovery," and "Half measures do avail us something—it's just the half we don't want," and "When I say NO to you I'm saying YES to me," and hundreds of others help us all in the Fellowship both develop our practice of daily meditation and deepen our experience in the program. The Wisdom of the Rooms aids in our individual practice of recovery as well as provides inspiration for group discussions, reminding us all that "I'll never be all right, until it's all right, right now."
Other Wisdom examples include quotes such as:
"Instead of telling God how big your fears are, start telling your fears how big your God is."
"The most spiritual thing you can do today is to help someone else."
"Wisdom is the knowledge you learn after you know it all."
"Let go of your old ideas, even the good ones."
"When you own your part, you own your power."
"Anger is one letter away from danger."
And hundreds more…
About the Author
---
In keeping with the traditions of the Fellowship, the author wishes to remain anonymous.
Praise For…
---
The Wisdom of the Rooms shows how to shift our attention from the chaos of our minds to the truth that is always present in our hearts. Let The Wisdom of the Rooms be your guide as you journey towards a happy, joyous, and free life. —Lee McCormick, founder of The Ranch Recovery Center in Tennessee, author of the Spirit Recovery Meditation Journal, contributor to Chicken Soup for The Recovering Soul, and Director of Spirit Recovery Inc.

The Wisdom of the Rooms combines the gems of timeless wisdom with thoughtful reflections that will be valuable to anyone, whether just entering recovery, or those with years of sobriety. This book offers the reader the support, common sense, and wisdom of a seasoned sponsor." —Jane Middleton-Moz, Author, Shame and Guilt; Masters of disguise and Co-Author, After the Tears: Helping Adult Children of Alcoholics Hel their Childhood Trauma

The Wisdom of the Rooms has captured some of the greatest bits of homegrown Wisdom and packaged them into one volume, ready to read, re-read and share with those you care about. —Joe Herzanek, author of Why Don't They Just Quit? What families and friends need to know about addiction and recovery

The Wisdom of the Rooms is a marvelous book. Between its covers are some of the best collections of the verbal wisdom shared at Twelve Step meetings that I have ever seen. I am using the draft copy of this book to select daily meditations to help me in my own recovery. It is a necessary recovery tool for all recovering people and their families. I recommend it be on the mandatory reading list with The Big Book and the "Twelve and Twelve." —Terence T. Gorski, author of Staying Sober: A Guide For Relapse Prevention

The Wisdom of the Rooms is EXCELLENT! Wisdom shows us the keys for long-term success in recovery, one day at a time. —Phillip S. Mitchell, M.A., MFT (CA), MAC Unit Therapist Sierra Tucson Treatment Center

The Wisdom of the Rooms provides the reader with a road map and toolbox for the journey toward lasting recovery. Don't leave home without it! —Arnold M. Washton, Ph.D., Addiction Psychologist, New York, NY and Princeton, NJ

A warm and meaningful book, delightful and enlightening, it will help anyone who is looking to strengthen their connection to God, to themselves and to others. Highly recommended. —Charles L. Whitfield, M.D., author of Healing the Child Within

An important contribution to the recovery literature. This book is a wonderful tool for both the newcomer and the old timer. —Stephanie S. Covington, Ph.D., Author of A Woman's Way through the Twelve Steps

Being involved in the Healing Ministry for over 40 years and seeing people's lives change when they can experience a shift in the way they think can bring about Miracles. I find The Wisdom of the Rooms the playground of the Holy Spirit as we all have opportunities to heal when we shift our perception and make room for the impossible to happen in our lives. —Rev Ron Roth, author of Prayer & The Five Stages of Healing

Highly recommended for those wishing to deepen their understanding and experience of recovery. —Kelly Madigan Erlandson, LADC, author of Getting Sober: A Practical Guide to Making It Through the First 30 Days

I have seventeen years of addiction and three years of recovery. I never tire of these wonderful, timeless words of hope. —Christine M., Homeless outreach advocate

I read The Wisdom of the Rooms each Monday to start my week. It is amazing to feel so connected spiritually. I also use Wisdom in the courses that I teach: Values Related to Health, Community Health, Substance Prevention Education and Women's Health. —Diane Rudebock, Ed.D., R.N., The University of Central Oklahoma

I read The Wisdom of the Rooms each week. As the mother of a struggling teen addict our family tales are the same as many. Reading this inspiration from each week has helped me to gain a certain perspective of the trials and tribulations my son faces and an understanding of his struggles that he is unable to explain. Each week you fill my glass with hope that one day my son will find himself "out of the hallway." —The mother of a recovering addict

I read The Wisdom of the Rooms each Monday to start my week. It is amazing to feel so connected spiritually. —Diane Rudebock, Ed.D., R.N., the University of Central Oklahoma

I recommend The Wisdom of the Rooms to all my patients and families that have someone in need of recovery. A must read for anyone who knows anybody in recovery. —Sharon Rechter, MD

I thank God for The Wisdom of the Rooms. —Jill Haire, LMHC, CAP, NCC, Free Flow Counseling

It's like having the wisdom of the old timers in the palm of your hand. —Jeff Jay, Coauthor of Love First and At Wit's End

Just love this book… Filled with gems, the gems that get me through another 24 hours of sobriety, and the words that drift into my consciousness when I am waiting for the answers to come...Thank God for The Wisdom of the Rooms ...Where would we all be without them... —Steve A., Sober Vacations International

Just wanted to let you know how much the weekly quotes have been useful to the people I work with. I am an Addiction Therapist with the Veterans Affairs Health Administration. There have been many times that I have taken a quote into a therapy group to use as a topic generator, only to find that it hit right on the issues on the minds of the group members on that day. The Veterans in our residential program often find they can relate to the quote of the week from The Wisdom of the Rooms. I have suggested this to my fellow therapists as well. Thank you for providing such an inspiring and useful tool for people in recovery. —James T. Hall, M.S. NCC, Addiction Therapist

Magnificent, practical advice for daily living. —Bert Pluymen, Author of The Thinking Person's Guide to Sobriety

One day at a time we find spiritual fitness if we turn to our Higher Power. Like Manna from heaven, it can't all be successfully stored, but must be replenished and given away. The Wisdom of the Rooms builds on ideas, quotes and faith commonly shared in the meetings. He then supplements each idea with bulleted and thought provoking questions to personalize the experience for each individual. I thank God for The Wisdom of the Rooms. —Jill Haire, LMHC, CAP, NCC, Free Flow Counseling

Reading this book is like having an intimate chat with a very wise but unassuming friend. I highly recommend it to anyone in recovery and as an appealing treatment resource for pastoral and substance abuse counselors. —Katherine van Wormer, Professor of Social Work, co-author of Addiction Treatment: A Strengths Perspective

The saying, "Words are worth their weight in gold," comes to life in The Wisdom of the Rooms. This little book of wisdom is a wonderful companion as we walk, and sometimes fall off, our path of recovery, whether addicted to a chemical or love. An uplifting and deeply fulfilling book that I highly recommend. —Brenda Schaeffer, Psychologist, Addiction Specialist and author of the best selling book Is It Love or Is It Addiction?

These thought-provoking meditations are like little lamps illuminating the steps of recovery, helping us to keep our balance and stay the course. Keep them close, to light your way. —Kathy Ketcham, co-author with Ernest Kurtz of The Spirituality of Imperfection

When the monkey in my brain starts chattering, I often ask it, "On what authority are you telling me this?" Well now I have an authority to counter with... "The Wisdom of the Rooms." —Gary Stromberg, Author of The Harder They Fall: Celebrities Tell Their Real-Life Stories of Addiction and Recovery