Star Wars: Scum and Villainy: Case Files on the Galaxy's Most Notorious (Hardcover)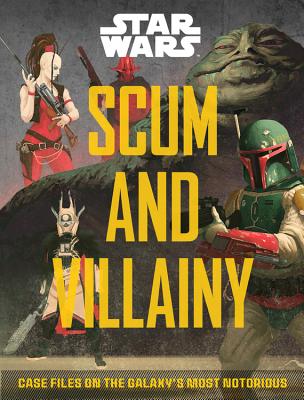 $40.00
Not Available In-Store - Usually Ships from Warehouse in 1-5 Days
Description
---
Crime in the galaxy is a constant—whether it's seedy deals made on the lower levels of Coruscant or organized crime syndicates in the outer rim—but how galactic law enforcement has defined those crimes has shifted with each change of power.
 
Star Wars: Scum and Villainyprofiles the misdeeds of infamous smugglers, pirates, gamblers, bounty hunters, and thieves throughout galactic history. Page through the case files of three generations of galactic law-enforcers and explore their case reports, surveillance images, warrants, artifacts, and much more in this lavishly illustrated and in-world narrated book that is showcased in a slipcase.
 
Introducing all-new details and characters, this collection sheds new light on the galaxy's most notorious.
 
About the Author
---
A lifelong Star Wars fan and recognized expert on the depth and history of the saga, Pablo Hidalgo started writing professionally on the subject in 1995, penning articles for the original Star Wars role-playing game from West End Games. In 2000, he became a full-time Star Wars authority at Lucasfilm, joining the company's online team as a content developer for the official website. In 2010, he became a Brand Communications Manager for Lucasfilm, ensuring consistency in the expression of the brand across a variety of channels. When Lucasfilm returned to active film production on the Star Wars saga under the leadership of Kathleen Kennedy, Hidalgo moved into the Lucasfilm Story Group as a creative executive working on the development of Star Wars storytelling across all media, including feature films, animated television, video games, novels, comic books, and more. In addition to his numerous published Star Wars works, he has written books about G.I. Joe and Transformers. He lives in San Francisco.
Praise For…
---
"...expect to have your horizon's expanded as Pablo introduces us to some brand-new characters and offers insights to established ones that will most definitely blur the lines between good and evil." - TheForce.net