Real Talk Tarot, 78 Card Deck and Guide Book: Mystical Answers for a Chaotic World (Kit)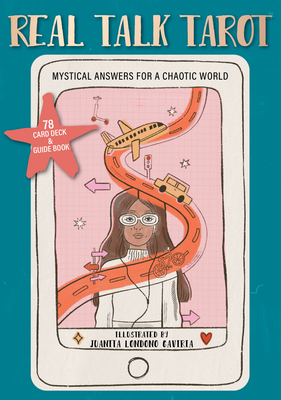 $24.99
Email or call for price.
Description
---
The tarot deck for our day, Real Talk Tarot—complete with a guidebook and keepsake box—speaks to our present-day icons and struggles with updated illustrations featuring relatable archetypes and scenes.

Let's be real; modern life can feel surreal and disorienting sometimes. This tarot deck, updated from the classic Rider Waite version, is perfect for everyone from novice to expert who is looking for guidance in today's world, which often feels like it's on fire.

Each of the 78 cards is connected to today's world by characters and situations you might encounter any day. Some of the illustrations are lighthearted, like the King of Cups depicted as a handsome barista, and some are less so, such as the Seven of Wands represented by a heated political protest in the streets, but each card is true to the experience of life today while staying true to its original tarot meaning.

The beautifully illustrated, highly giftable deck comes with an interpretation guidebook so beginners and experts alike can read the cards. The deck and book come in a beautiful keepsake box.

Whether you are looking to add a unique deck to your collection or are just beginning your tarot journey, Real Talk Tarot is the fresh take on tarot that you need right now.
About the Author
---
Illustrator Juanita Londoño Gaviria was born in Colombia amidst the mountains, surrounded by nature, birds, and flowers. She believes that what led her to illustration was bedtime stories—she wouldn't go to sleep if her parents didn't read from a storybook. Juanita studied fashion design in her hometown, Medellín, and graduated with a degree in Concept Art from Vancouver Film School.