Dry Climate Gardening: Growing beautiful, sustainable gardens in low-water conditions (Paperback)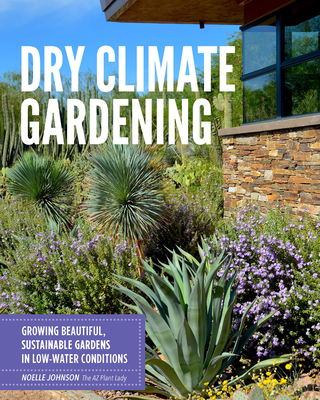 Description
---
In Dry Climate Gardening, author and desert horticulturist Noelle Johnson, also known as AZ Plant Lady, delivers all the know-how you need to grow a breathtaking, colorful, and vibrant garden in low-water conditions.
Gardening in an arid climate doesn't have to mean a yard full of rocks with a few cacti plunked in. With careful plant selection and thoughtful design, you can create a low-water landscape that's an oasis for humans and wildlife alike. There are hundreds of plants well-suited to xeric conditions, and with the proper care, they create a living desert landscape that will stop passersby in their tracks. Let Dry Climate Gardening be your guide to crafting a climate-appropriate outdoor living space that's the envy of the neighborhood, whether you live in the American Southwest, the Mediterranean region, or any other arid climate.
Inside you'll find:
The best arid-adapted plants to feature in your landscape
Information on which plants struggle in dry climates and how to avoid them
The five "desert seasons" and which are best for planting
How to handle desert soils
Plant care techniques specific to dry climates, including pruning, fertilizing, and more 
How to design a planting for maximum impact and minimal water needs
Plant profiles and charts for every category, from trees and shrubs to groundcovers, vines, succulents, and perennials
Sample garden designs and plant lists you can adapt to your own space 

With water restrictions and the number of gardeners dealing with drought conditions on the rise, we all need to get more creative in the way we grow. Water-wise landscaping is a must for millions of gardeners. In Dry Climate Gardening, you'll learn how to do it with care and style.
About the Author
---
Noelle Johnson is a horticulturist, landscape consultant, and garden writer who lives in the Phoenix, Arizona, metro area. Popularly known as "AZ Plant Lady," her passion for over 20 years has been to inspire and teach people to create, grow, and maintain beautiful gardens that thrive in a hot, dry climate. She is the author of the popular blog Desert Gardening 101, where she has been imparting essential gardening advice for over 10 years. Noelle has been an instructor at both the Desert Botanical Garden and the Tucson Botanical Gardens, and also speaks to garden groups about desert gardening. Over her career, Noelle has written for Water Use It Wisely, Birds & Blooms magazine, Houzz, Phoenix Home & Garden magazine, and The Home Depot. Her goal is to give people the knowledge they need to create, grow, and maintain a beautiful garden that thrives in a hot, dry climate.
 
Praise For…
---
"If anyone is qualified to help home gardeners garden in dry climates, it's Phoenix-area horticulturist and landscape consultant, Noelle Johnson aka AZ Plant Lady. In her new book, Dry Climate Gardening, Noelle takes gardeners by the hand and leads them through understanding how to garden in climates where heat, aridity, and punishing sunlight are the summertime norm and often, winters fall below freezing. As Noelle says, 'Gardening in a hot, dry climate isn't hard, but it is different,' - and it is beautiful."—Nan Sterman, Horticulturist, garden designer, creator/host of Public Television's A Growing Passion,

"Dry Climate Gardening is a very helpful and detailed book which I consider a must-have to learn dry climate gardening. Gardening in such a climate is easy — if you know all the tricks. In this book, Noelle shows you all the basics. Full-color beautiful photos and very specific instructions make this book a perfect guide for your challenging dry garden journey. Need help with soil, pruning, fertilization, watering, and extreme sun? Noelle is your guide to success. She also teaches smart tips for dealing with color combinations, growing cactus, fire risk, shady areas, and other garden needs that are unique to extreme dry conditions."—Shawna Coronado, author of 101 Organic Garden Hacks: Eco-Friendly Solutions to Improve Any Garden

"Noelle Johnson's guide to desert gardening covers the subject superbly. It's a must for anyone who wants a colorful, easy-care, good-looking garden in a dry climate."—Debra Lee Baldwin, succulent expert and author of Designing with Succulents

"You've just found a best friend to decipher the puzzle of engaging, gorgeous dry climate gardens that delight your soul without draining your time and water resources. Johnson shares common "uh oh" mistakes, side by side with enlightening science, practical hands-on techniques, and aesthetic awareness. Writing as to a friend, each chapter unfolds new pathways to knowledge. Succinct plant profiles cover need-to-know details to grow the right plant for the right place. I also love Dry Climate Gardening's equally engaging design. Beautifully photographed with clarifying examples, the layout is uncluttered and easy-to-navigate. This is a book that you'll want in easy reach to peruse over and over as your own gardening chapters evolve."—Linda Lehmusvirta, Producer, Central Texas Gardener, Austin PBS

"Noelle's book uproots all the stereotypes of gardening in an arid or semi-arid region. Instead of expanses of rock and cactus with a few boring clipped shrubs, she shows just how colorful and plant-rich - yet waterwise - a dry garden can be, while walking the reader through the practicalities of smart plant selection and maintenance. Everyone who relocates to a desert climate, or who wants to refresh their yard to meet the challenges of climate change, should get this book and read it cover to cover."—Pam Penick, author of Lawn Gone!: Low Maintenance, Sustainable, Attractive Alternatives for Your Yar

"Informative, practical, and nicely done, Dry Climate Gardening offers homeowners a useful tool to create a low-water landscape they will enjoy."—Dr. Jacqueline Soule, Author, Arizona, Nevada, New Mexico Month by Month Gardening.

"The 'AZ Plant Lady' will hook you at the start with her friendly and conversational writing style. Weaving stories both from her experiences as a horticulturist in the desert southwest and from her work with many clients, she provides all the basics you'll need to have a great understanding of dry climate gardening. If the text doesn't inspire you to get your gloves on and grab your shovel, the exceptional landscape photos will. Detailed plant profile descriptions and accompanying photos make for effortless plant selection, too."—Donna DiFrancesco, Horticulturist and Water Conservation Coordinator, City of Mesa, AZ

"Dry Climate Gardening provides a clear path to create appealing and functional landscapes, for less work and water than is common. As a former landscape architect, I appreciate Noelle's numerous, real-world examples, including suitable plant spacing, color theory, how to (or how not to) prune plants, mulch types and coverage, hardscape and container basics, drainage, and garden layouts. While the plant list applies more to warmer zones of the desert southwest and summer-dry California, ample information and methods relate equally to other dry but cooler winter elevations nearby. Dry Climate Gardening is a great help for any level of gardener or garden designer who grows where moisture is limiting."—David Cristiani, Las Cruces, New Mexico

"...the most useful how-to guide for those of us all around the world who garden in a dry and ever-drying climate. A gardening book that is dripping with inspiring images and useful plant descriptions. This is not just a coffee table book.You will find yourself checking back through this book with dirt under your nails, referring back to again and again as your garden grows."—AndreaWhitley.com