Easy Keto Cooking: Lose Weight, Reduce Inflammation, and Get Healthy with Recipes, Tips, and Meal Plans (New Shoe Press) (Paperback)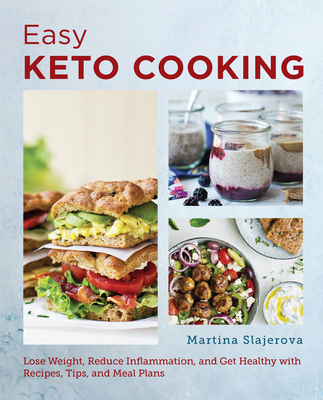 Description
---
Succeed in your transition to the fat-burning keto diet with expert guidance and 150 recipes to keep you on track.
You've tried Paleo and a low-carb diet, but is it enough to give your metabolism the jolt it needs? Have you plateaued with your weight loss? What can you do to really burn off that extra weight and live a healthier life? Conquer these challenges with the ketogenic diet—with foods higher in good fats, moderate protein, and little-to-no carbohydrates,
you'll feel less hungry and your body will begin to burn fats stores
instead of the carbohydrates and glucose that usually bog down your system.
Easy Keto Cooking
, adapted from Martina Slajerova's best-selling
The Beginner's Keto Diet Cookbook
, distills the
key information you need as you start out
with the diet and the best-of-the-best recipes to make while retaining the expertise of one of the best-selling keto authors on the market today. The book offers an introduction to the science behind the ketogenic diet, a basic guide to following it, and abundant practical solutions for the beginner, including navigating the first tricky few weeks as your metabolism readjusts to burning fat rather than carbs.
Every recipe in 
Easy Keto Cooking
is designed to meet the special nutrient requirements of the induction phase and to be perfectly compatible with ketogenic, low-carb, high-fat, gluten-free, grain free, Paleo, primal, and ancestral diets. Give your body the boost that it deserves with
soups
, 
breakfasts
, 
appetizers
,
sides
, and 
sauces
that are
totally free of: grain, sugar, potatoes, legumes, additives/artificial sweeteners, and unhealthy oils/fats
.
Dairy-free options
are also included. Just some of the dishes you'll enjoy:  
Cheesy Spinach Pancakes
Chicken Meatball Pho
Avocado-Stuffed Power Balls
Superfood Pesto Zoodles & Eggs
Bacon-Wrapped Monkfish with Creamed Spinach
Chocolate Cupcakes with German Buttercream
Strawberry Cream Soda
From quick "keto-flu" remedies and curbing cravings, to avoiding pitfalls like incorrect macronutrient balances and "zero-carb" approaches,
Easy Keto Cooking
 puts you on the right path to lose weight, get healthy, and enjoy all the benefits of the ketogenic diet for the long-term.
About the Author
---
Martina Slajerova is a health and food blogger living in the United Kingdom. She is the best-selling author of The KetoDiet Cookbook, Sweet and Savory Fat Bombs, Beginner's KetoDiet Cookbook, Quick Keto Meals in 30 Minutes or Less, Keto Slow Cooker & One-Pot Meals, The Keto All Day Cookbook, Super Low-Carb Snacks, and Keto Simple. A firm believer in low-carb living, Martina discovered the ketogenic diet after being diagnosed with Hashimoto's Disease in 2011. Frustrated with the lack of practical resources, Martina created the KetoDiet app and blog to help others live the ketogenic lifestyle successfully. A science geek at heart, Martina incorporates the latest research as well as firsthand experience into her advice. When creating recipes, she focuses not just on carb count, but on creating delicious, healthy recipes that are free of processed ingredients, unhealthy vegetable oils, and artificial sweeteners. Today her blog posts reach hundreds of thousands of people and her work has been featured in Cosmopolitan, Glamour, Huffpost Healthy Living, BuzzFeed, as well as dozens of other low-carb media and outlets.