Atlas Obscura: An Explorer's Guide to the World's Hidden Wonders (Hardcover)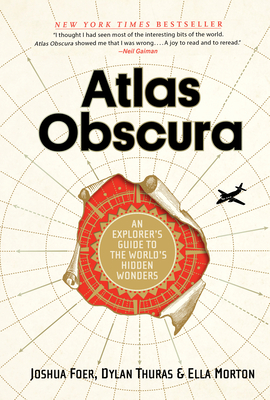 Staff Reviews
---
THIS BOOK IS SO COOL!!!!!!!!! It's my dream to travel the world and see as much as I possibly can and the weirder the better! The Capuchin Catacombs, bone churches, Poveglia (Plague Island), the House on the Rock (for the American Gods fans out there) but there is one thing I want to see more than anything else. The Baby Jumping Festival in Castrillo De Murcia Castile and Leon Spain!!!!!! That's right Baby Jumping Festival. Men dressed as devils leap over mattresses with rows of babies on them. They are not dressed as traditional devils but do wear devilish masks. Who lets people do this, it's nuts?!?! My hometown is also featured twice in the book so yeah Pittsburgh and your weirdness. All the strange stuff I like and want to see is now in one book of awesomeness! Who could ask for anything more!
—
Heather G.
Description
---
It's time to get off the beaten path. Inspiring equal parts wonder and wanderlust, Atlas Obscura celebrates over 700 of the strangest and most curious places in the world.

Talk about a bucket list: here are natural wonders—the dazzling glowworm caves in New Zealand, or a baobob tree in South Africa that's so large it has a pub inside where 15 people can drink comfortably. Architectural marvels, including the M.C. Escher-like stepwells in India. Mind-boggling events, like the Baby Jumping Festival in Spain, where men dressed as devils literally vault over rows of squirming infants. Not to mention the Great Stalacpipe Organ in Virginia, Turkmenistan's 40-year hole of fire called the Gates of Hell, a graveyard for decommissioned ships on the coast of Bangladesh, eccentric bone museums in Italy, or a weather-forecasting invention that was powered by leeches, still on display in Devon, England.

Created by Joshua Foer, Dylan Thuras and Ella Morton, ATLAS OBSCURA revels in the weird, the unexpected, the overlooked, the hidden and the mysterious. Every page expands our sense of how strange and marvelous the world really is. And with its compelling descriptions, hundreds of photographs, surprising charts, maps for every region of the world, it is a book to enter anywhere, and will be as appealing to the armchair traveler as the die-hard adventurer.

Anyone can be a tourist. ATLAS OBSCURA is for the explorer.
About the Author
---
Joshua Foer is the cofounder and chairman of Atlas Obscura. He is also the author of Moonwalking with Einstein: The Art and Science of Remembering Everything, a bestseller published in 33 languages, and a forthcoming book about the world's last hunter-gatherers.
Dylan Thuras is the cofounder and creative director of Atlas Obscura. He lives in Rosendale, NY.
Ella Morton is a New Zealand-born, Australian-raised, Brooklyn-based writer, focusing on overlooked aspects of history and culture. After covering consumer technology at CNET she hosted Rocketboom NYC, a web show about New York's quirkier people and places. Her most popular interview was a chat with Cookie Monster on the set of Sesame Street. Ella was associate editor at AtlasObscura.com, where she wrote about such topics as tobacco smoke enemas, Victorian streaming music services, and the etiquette of marrying a ghost.
Praise For…
---
"A wanderlust-whetting cabinet of curiosities on paper" —The New York Times

"Fair warning: It's addictive." —NPR, "Cosmos & Culture"

"In this gorgeous collection, the celebrated Atlas Obscura website is condensed into 480 pages of awe-inspiring destinations. For lovers of history and exploration, the striking color photographs will spark immediate wanderlust." —Entertainment Weekly

"Odds are you won't get past three pages without being amazed at something truly strange that you didn't know existed." —San Francisco Chronicle

"Richly illustrated, delightfully strange, this compendium of off-beat destinations should spark many adventures, both terrestrial and imaginary." —Boston Globe

"This book is PACKED with wonderful, amazing, fascinating places all around the world. This is the perfect gift for the person who thinks they've done it all and seen it all because this shows that there's so much more in the world to explore. It's a wonderful, wonderful coffee table book." —NBC, "TODAY"

"A perfect tome for the armchair explorer and the actual traveler alike." —Austin American Statesman

"The most addictive book of the year." —Colin McEnroe, WNPR

"Whether describing a Canadian museum that showcases world history through shoes, a pet-casket company that will also sell you a unit for your severed limb, a Greek snake festival, or a place in the Canary Islands where inhabitants communicate through whistling, the authors have compiled an enthralling range of oddities. Featuring full-color illustrations, this hefty and gorgeously produced tome will be eagerly pored over by readers of many ages and fans of the original website."—Booklist (Starred Review)

"If this compendium of the weirdest, wackiest, and most wonderful destinations on the planet doesn't fill you with insatiable wanderlust, then you need to check your pulse." —mental_floss

"This is the fun way, a deep dive (sometimes literally) into places you'd never find otherwise, the weird and wild wonders of the world." —WIRED

"The book is for people who prefer to live like locals when they travel, seek out new cultures on vacation, or just prefer the weirdness of history to traditional by-the-book experiences. Even if you can't travel, Atlas Obscura is a window into places you'd otherwise never know existed." —lifehacker

"A travel guide for the most adventurous of tourists . . . a wonderful browse [for] armchair travelers who enjoyed Brandon Stanton's Humans of New York and Frank Warren's PostSecret." —Library Journal

"I thought I had seen most of the interesting bits of the world. Atlas Obscura showed me that I was wrong.It's the kind of book that makes you want to pack in your workaday life and head out to places you'd never have dreamed of going, to see things you could not even have imagined. A joy to read and to reread."
—NEIL GAIMAN, author of Sandman and American Gods

"Atlas Obscura is a joyful antidote to the creeping suspicion that travel these days is little more than a homogenized corporate shopping opportunity.Here are hundreds of surprising, perplexing, mind-blowing, inspiring reasons to travel a day longer and farther off the path. . . . Bestest travel guide ever."
—MARY ROACH, author of Stiff and Gulp

"Atlas Obscura may be the only thing that can still inspire me to leave my apartment. . . . This resource is essential for exploring the world and engaging adventure with wit and style (often from the comfort of my bed)."
—LENA DUNHAM, creator of Girls and author of Not That Kind of Girl

"My favorite travel guide! Never start a trip without knowing where a haunted hotel or a mouth of hell is!"
—GUILLERMO DEL TORO, filmmaker, Pan's Labyrinth
 
"What a strange and wonderful book! It is as curious and surprising as Saddam Hussein's very own Blood Qur'an—written in his own blood—which I would never have known about had I not read the amazing Atlas Obscura."
—JON RONSON, author of So You've Been Publicly Shamed
 
"This book is as curious and enthralling as the world it covers. Each page reveals some hidden realm—a realm that is frightening, or funny, or magical, or simply mad, but that always leaves the reader in wonder."
—DAVID GRANN, author of The Lost City of Z: A Tale of Deadly Obsession in the Amazon

"Your peregrine falcon needs a small talon trim? Go straight to the Abu Dhabi Falcon Hospital. . . . Be grateful when visiting the Karni Mata Rat Temple if one of the 20,000 venerated rodents runs across your bare foot—it is considered good luck. . . . You won't be able to enter the 20-years-in-the-making and still abandoned tallest hotel in the world. It does not matter. Wherever you look around Pyongyang, North Korea, the 105-story skyscraper silently towers over all. . . . Life is short. Our planet is filled with curiosities and marvels . . . and this wondrous book is your guide!"
—PHILIPPE PETIT, high-wire artist and explorer
Coverage from NPR