The Modern Loss Handbook: An Interactive Guide to Moving Through Grief and Building Your Resilience (Hardcover)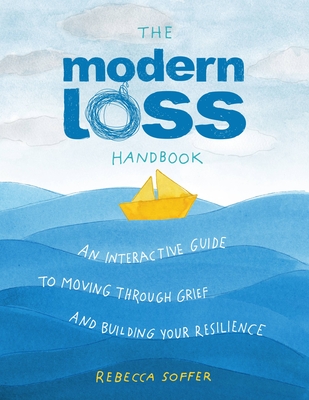 Description
---
"Poignant, funny, and able to provide exercises that help you maneuver the rough . . . if I were going through something, this is the book I want to read." —Gayle King

Stay connected to your person, yourself, and the world around you in the aftermath of loss.
 
Modern Loss is all about eradicating the stigma and awkwardness around grief while also focusing on our capacity for resilience and finding meaning. In this interactive guide, Modern Loss cofounder Rebecca Soffer offers candid, practical, and witty advice for confronting a future without your person, honoring their memory, dealing with trigger days, managing your professional life, and navigating new and existing relationships. You'll find no worn-out platitudes or empty assurances here. With prompts, creative projects, innovative rituals, therapeutic-based exercises, and more, this is the place to explore the messy, long arc of loss on your own timeline—and without judgment.
About the Author
---
Rebecca Soffer is the cofounder of Modern Loss, which offers encouraging, creative, and keeping-it-real content and community addressing the long arc of grief. She also coauthored the book Modern Loss: Candid Conversa­tion about Grief. Beginners Welcome. and is an internationally recognized speaker on loss and resil­ience. Her work has been widely published with outlets including the New York Times, Glamour, Marie Claire, NBC, CNN, and more. She is a Columbia University Graduate School of Journalism alumna and a former producer for the Peabody Award–winning The Colbert Report. Rebecca lives in New York City and the Berkshires in Western Massachusetts with her husband and two children
Praise For…
---
"Grief is hard to talk about, but this book does it beautifully." —Stephen Colbert

"Poignant, funny, and able to provide exercises that help you maneuver the rough . . . if I were going through something, this is the book I want to read." —Gayle King

"Please, dear God, let this be handed out with the crappy (or fancy!) white wines at wakes, life celebrations, shivas, and/or funerals. It could and will change lives." —Erin Lee Carr, author of All That You Leave Behind: A Memoir and filmmaker, Britney vs. Spears

"The Modern Loss Handbook is a rare achievement: candid, funny, wise, useful. And best of all, it's filled with tools to help us face grief without the puffy, well-meaning blah blah blah that we grievers are always hearing. Rebecca is one of us, and she writes like it." —Michael Cruz Kayne, writer for The Late Show with Stephen Colbert and host of the A Good Cry podcast

"Like a pal who listens to you vent and makes you laugh in equal measure, The Modern Loss Handbook is comforting, thoughtful, and the perfect amount of irreverent. Each gently posed question and biting anecdote is a reminder that however shriveled by grief readers may feel, they're not alone, and they're going to be okay (mostly). This handbook is just what I needed when my mom died, and I'm so glad it exists now. A hundred times better than a condolence card." —Tyler Feder, author of Dancing at the Pity Party

"This book is filled with humanity and compassion. It's a real gift for anyone searching for practical exercises to find strength in the wake of loss and hope in the depths of grief." —Adam Grant, #1 New York Times bestselling author of Think Again and Option B

"I can't count how many times I've turned to Modern Loss in the past few years. It's more than a book; it's a community of people learning to live with grief. The Modern Loss Handbook puts everything Rebecca Soffer has created and incubated into one loving place." —Laurie Kilmartin, writer for Conan and author of Dead People Suck

"This book honors each mourner's journey with empathy, respect, candor, and compassion. Even after three decades of experience with mourners I found new ideas and approaches on nearly every page." —Steve Leder, author of The Beauty of What Remains

"Rebecca not only has a gift for writing about loss in such a relatable and humorous way, but she has also provided an incredibly helpful resource for those finding themselves unmoored by the cruel beast that is grief. Walking back into the world after a huge loss can feel nothing short of impossible, and this book is like someone giving you a hug, then taking your hand and heading out the door with you." —Alyssa Limperis, actress, comedian, and creator of No Bad Days

"This book is a gift, a road map, and an inspired conversation all at once. It invites creativity, inner-listening, and refreshing realness as we navigate the 'messy ride' of grief." —Tembi Locke, actor, producer, and New York Times bestselling author of From Scratch

"Grief is the uninvited party guest who barges in and then never leaves. In this handbook, Rebecca doesn't just give you the tools to deal with it after everyone else has gone home; she makes you comfortable, makes you laugh, hands you the martini when you need it, and the shoulder when you need that. It's all right to cry. It's also all right to be angry, tired, sad, and even joyful, all at the same time. That's what it is to be alive." —Glynnis MacNicol, author of No One Tells You This

"The best thing one can say about a book about loss is that it's useful. This one is—deeply. It also happens to be wise and honest and beautiful and funny. Wherever you are on your journey through grief, The Modern Loss Handbook will help you get farther." —Adam Mansbach, author of Go the F*ck to Sleep and I Had a Brother Once

"As close to a how-to manual as you can get for loss. Rebecca understands that every loss is as personal as it is universal, that while some things cannot be fixed, they can (and must) be managed, and that even in the depths of the darkness, you can still find the light. A must-have for every person standing in the rubble of what was, wondering What the heck do I do now?" —Nora McInerny, host of the podcast Terrible, Thanks for Asking

"Finally, a book that makes it okay to grieve messy and makes going through hell just a little bit easier—and a lot more fun." —Katie Rich, writer for Saturday Night Live and executive producer of Chicago Party Aunt

"In the hardest of times, Rebecca Soffer's warm, reassuring voice is the one I'd want in my ear. Lucky us, we have it, page after page, in The Modern Loss Handbook. I especially appreciate the way Rebecca empowers readers to use their own creativity to navigate grief and loss. I plan to keep a stack of these books handy, so I can pass them along to friends. The Modern Loss Handbook is going to touch so many people." —Maggie Smith, author of Keep Moving: Notes on Loss, Creativity, and Change

"Absolutely no one wants to be a grief expert because no one wants to have to live inside it enough to become adept at its navigation. Rebecca Soffer not only has come through this terrible thing, as much as anyone can, but also has created a soulful, honest, benevolent road map for this trip we all must take, even though we really, really don't want to. She's someone you'd want in the passenger seat giving you directions." —Leslie Gray Streeter, author of Black Widow