Where There's a Whisk (Hardcover)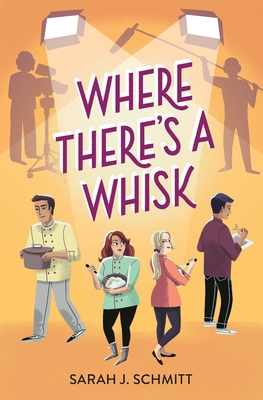 $17.99

Not Available In-Store - Usually Ships from Warehouse in 1-5 Days
Description
---
Life is what you bake it.
Peyton Sinclaire wants nothing more than to escape her life as a diner waitress in her small, North Florida town and attend culinary school. Top Teen Chef, Food TV's new show that pairs reality TV drama with a fast-paced culinary competition, is her ticket out of her boring future. It's a once-in-a-lifetime chance to make her dreams come true and Peyton is determined to prove to herself, and the world, that where you're born does not determine where you can go. However, once on the show, Peyton quickly discovers that there is more to the competition than just a well-seasoned dish. 
As things start to heat up on and off the set, Peyton will have to prove to the judges that she deserves to win while trying to untangle what is real and what is scripted drama, and decide what she is willing to risk to win before her dreams end up on the chopping block.
About the Author
---
Sarah Schmitt is a former K-8 school librarian and Youth Service Professional for Teens at a public library who enjoys teaching writing to teens through interactive school visits. She lives near Indianapolis with her husband, two kidlets, and a Houdini-esque pup named Sadie.
Praise For…
---
"Absolutely delicious! With a dash of humor, a pinch of romance, and a dollop of self-discovery, Sarah J. Schmitt has perfected the recipe for foodie YA. Where There's a Whisk will leave readers hungry for more from Schmitt!"—Stephanie Kate Strohm, Love à la Mode

"Where There's A Whisk has all the heart, tension, and drama of a real reality TV cooking show, with an extra heap of lasting friendship on top. My only complaint is that it didn't come with dessert!"
 —Francesca Zappia, author of Eliza and Her Monsters and Now Entering Addamsville

"Where There's a Whisk is a fun-filled tale of a teen cooking competition with heaps of tantalizing food and a side helping of drama. You'll be rooting for Peyton from the get go."

 —Casie Bazay, author of Not Our Summer

"Set against the simmering backdrop of a reality TV cooking show and featuring a lovable cast of rivals, Where There's A Whisk is unputdownable. I adored the layers of friendship, hope, and behind-the-scenes drama. This book has all the zesty sweetness of the perfect key lime pie."—Akemi Dawn Bowman, author of Starfish and The Infinity Courts

"A small-town girl with big-city dreams, a cut-throat competition where nothing is what it seems, all mixed together with a sweet romance . . . Where There's A Whisk serves up delicious drama that teen readers will devour."
 —Lisa Maxwell, author of The Last Magician series

Praise for Sarah J. Schmitt and It's a Wonderful Death
"Fun, funny, and full of life."
—Kirkus

"Told in RJ's snarky voice, this delightful debut encompasses elements of A Christmas Carol, It's a Wonderful Life, and Gayle Foreman's If I Stay (2009), while still being unique. . . . The message of standing up to opposition -- whether for yourself or for others -- is an important life lesson that readers learn alongside RJ. Her story compellingly demonstrates that significance comes from the quality (not quantity) of one's life."—Booklist

"Schmitt's smart, funny novel will keep readers entertained as they follow R.J. on her redemptive path from 'self-absorbed princess' to someone more capable of kindness, while perhaps contemplating their own actions and choices. R.J.'s sarcastic sense of humor sharply counterbalances touching moments as she learns how to live more generously."
—Publishers Weekly

"Full of snark and morality, RJ is a teen girl that many readers will relate to and enjoy getting to know. It is a story of the ultimate takedown of a popular mean girl, but it is then incredibly encouraging. Readers will love RJ's sarcasm and will laugh out loud at some of the depictions of the afterworld. (Who knew Death Himself would be kind of cute?) A book that could have easily become preachy gives just the right amount of redemption. Even though most readers will be dissatisfied with the ending, it is a great addition to any library serving teens."—VOYA