Off Grid Life: Your Ideal Home in the Middle of Nowhere (Hardcover)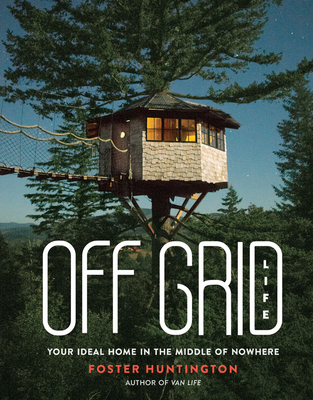 Description
---
Bestselling Van Life author Foster Huntington shares his experiences -- as well as others -- living by his own rules in this aspirational book filled with awe-inspiring photographs of unique homes in unexpected places.
After spending three years on the road living in a camper van, Foster Huntington continued his unconventional lifestyle by building a two-story treehouse. Foster, like many others, are finding freedom, tranquility, and adventure in living off the grid in unconventional homes.
Perfect for fans of Van Life and Cabin Porn and those who long for a quieter life, Off Grid Life showcases unique dwellings from all around the world. Organized into sections like tree houses, tiny houses, shipping containers, yurts, boathouses, barns, vans, and more, the 250 aspirational photographs feature enviable settings like stunning beaches, dramatic mountains and picturesque forests. Also included are images of fully designed interiors with kitchens and sleeping quarters as well as interviews with solo dwellers, couples, and families who are living this new American dream.



About the Author
---
Foster Huntington is a photographer and filmmaker from Skamania, Washington. In 2011, he travelled around the US in a camper van and began the popular tumblr account and hashtag, van-life.net. In 2014, he built a multi-platform treehouse known as the Cinder Cone in the Columbia River Gorge in Washington. He currently works on short films and photo projects in his studio.
Praise For…
---
"The heavily illustrated volume is a collection of photos and essays that…. unfurl the imagination: an Earthship modeled after a Hobbit house, a fire pit in the woods beside a homely black shipping container, a treehouse with a wraparound porch, nestled between birches or aspens. If you really are thinking of returning to the land (or sea), this book will both feed your fantasy and give you a taste of what the experience is really like…. Whether you're dreaming, hoping or planning, Off Grid Life is a good place to spark — or park — your dreams."
 
Timothy R. Smith
,
The Washington Post