Peanuts: Happiness Is Having a Friend: A Fill-In Book (Hardcover)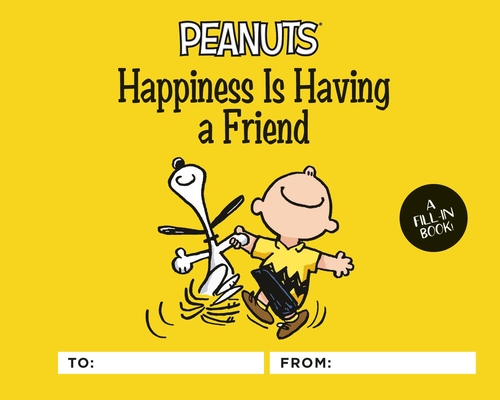 Description
---
Whether they're loyal like Charlie Brown or silly like Snoopy, tell a pal how much their friendship means to you with this customizable book.
This interactive book invites you to fill in what you love about your friend, with 46 writing prompts inspired by the Peanuts gang. Once completed, this book becomes a personalized gift that shows that happiness 
is 
having a friend.
Accompanied by full-color illustrations throughout, prompts include:
Like Linus's security blanket, you're always _______.
When I'm in my "depressed stance," you know _______ always cheers me up.
We were total blockheads that one time we _______.
Just wait until next year! Together, we will _______.
and many more!
© 2021 Peanuts Worldwide LLC.
About the Author
---
Charles M. Schulz's (1922-2000) Peanuts comic strip debuted in 1950 and went on to become the most widely read comic strip in the world, with an audience of 355 million people in 75 countries. It ran in 2,600 newspapers and was published in 21 languages.