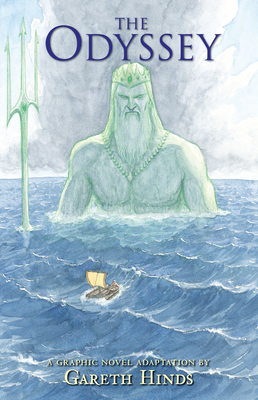 $26.99

Not Available In-Store - Usually Ships from Warehouse in 1-5 Days
Winter 2011 Kids' Next List
---
"Gareth Hinds has created yet another well-paced and thoughtful graphic adaptation of a classic. The presentation portrays all the gravity and emotional depth of its characters' struggles in language that is respectful of Homer's original, but with a clarity that both kids and adults will find accessible. Hinds' fluid illustrations have an earthy quality that brings humanity to every page."
— Jane Knight, Bear Pond Books of Montpelier, Montpelier, VT
Description
---
With bold imagery and an ear tuned to the music of Homer's epic poem, Gareth Hinds reinterprets the ancient classic as it's never been told before.

"Gareth Hinds brings The Odyssey to life in a masterful blend of art and storytelling. Vivid and exciting, this graphic novel is a worthy new interpretation of Homer's epic."—Rick Riordan, author of the Percy Jackson & the Olympians series

Fresh from his triumphs in the Trojan War, Odysseus, King of Ithaca, wants nothing more than to return home to his family. Instead, he offends the sea god, Poseidon, who dooms him to years of shipwreck and wandering. Battling man-eating monsters, violent storms, and the supernatural seductions of sirens and sorceresses, Odysseus will need all his strength and cunning—and a little help from Mount Olympus—to make his way home and seize his kingdom from the schemers who seek to wed his queen and usurp his throne. Award-winning graphic artist Gareth Hinds masterfully reinterprets a story of heroism, adventure, and high action that has been told and retold for more than 2,500 years—though never quite like this.
About the Author
---
Gareth Hinds is the creator of several acclaimed graphic novels based on classic works. About The Odyssey, he says, "It was incredibly exciting to work with this material—gods, monsters, flawed heroes, intense battles, and all the best and worst of human nature, set against an ancient Mediterranean backdrop? It's really a dream project." He lives in Watertown, Massachusetts.
Praise For…
---
Hinds's beautiful watercolors skillfully capture the rosy-fingered dawn, the wine-dark sea, the land of the dead, and many other settings and characters that will inspire readers. …A welcome addition for fans of Homer's original work and for newcomers to this classic story
—School Library Journal

A spectacular graphic novel.
—Buffalo News

This finely detailed, lovingly drawn volume is worthy of any coffee table.
—Florida Times­Union

Will attract your adventure loving boys and graphic novel fans. This adaptation belongs in every collection where the epic poem is studied …This should fly off the shelves.
—Library Media Connection,

Hinds has beautifully adapted Homer's Odyssey with pencil and watercolor illustrations. He makes use of several translations yet retains the essence of Homer's tale. Eye-catching artwork on the front and back covers and the detailed Grecian urns on the end pages bring readers immediately into Hinds's visual interpretation. The bright and colorful illustrations help make the classic epic poem accessible.
—VOYA

With this graphic-novel interpretation, Hinds will hook some of those hold-outs who have thus far resisted the Odyssey's lure…outstanding individuation of characters…lovingly developed flow between frames
—Bulletin of the Center for Children's Books (starred review)

Hinds follows in the footsteps of these earlier translators while soon finding his own path of eloquence. There is beauty and poetry in pages that have no words at all but instead pencil and watercolor drawings that transport us to turbulent seas where Poseidon looms over the hero as a man over a minnow.
—Milwaukee Journal Sentinel

Because Hinds chose to make his story as close an adaptation as possible, even down to researching various translations of the work, his graphic novel is a good companion to a classroom or book club study of the original poem… Hinds chooses a very realistic style, drawn in pencil and painted in watercolors. His scenes have a warm sunniness that fits the Mediterranean setting
—Good Comics For Kids (SLJ Blog)