A Spy in the House (Paperback)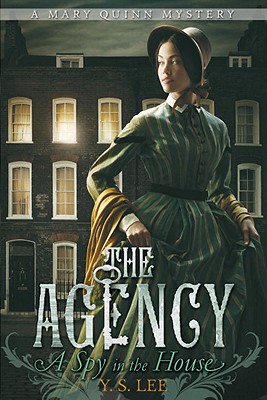 Staff Reviews
---
Mary, an ex-thief mysteriously saved from the gallows and brought to Miss Scrimshaw's Academy for Girls, has eagerly accepted a position with The Agency, the secret female spy corps hidden within the school. Her first assignment is working as a lady's companion with the Thorolds, a family whose patriarch is suspected of smuggling. The father ignores Mary, the daughter detests her, and the mother is practically an invalid. But in this household, everyone hiding something, doing all they can to outsmart each other and prevent their own secrets from coming out. Mary finds a potential ally in handsome James Easton, but with her own secret to hide, finding the criminal might just be more than she can handle.
—
Danielle
Description
---
Introducing an exciting new series Steeped in Victorian atmosphere and intrigue, this diverting mystery trails a feisty heroine as she takes on a precarious secret assignment.
Rescued from the gallows in 1850s London, young orphan (and thief) Mary Quinn is surprised to be offered a singular education, instruction in fine manners and an unusual vocation. Miss Scrimshaw's Academy for Girls is a cover for an all-female investigative unit called The Agency, and at seventeen, Mary is about to put her training to the test. Assuming the guise of a lady's companion, she must infiltrate a rich merchant's home in hopes of tracing his missing cargo ships. But the household is full of dangerous deceptions, and there is no one to trust or is there? Packed with action and suspense, banter and romance, and evoking the gritty backstreets of Victorian London, this breezy mystery debuts a daring young detective who lives by her wits while uncovering secrets including those of her own past.
"From the Hardcover edition.
About the Author
---
Y. S. Lee has a PhD in Victorian literature and culture and says her research inspired her to write A SPY IN THE HOUSE, "a totally unrealistic, completely fictitious antidote to the fate that would otherwise swallow a girl like Mary Quinn." Y. S. Lee lives in Ontario, Canada. "From the Hardcover edition."