Mouse Bird Snake Wolf (Hardcover)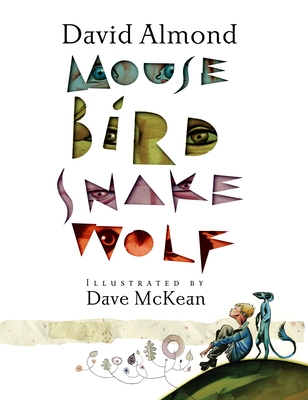 $17.99
Not Available In-Store - Usually Ships from Warehouse in 1-5 Days
Staff Reviews
---
Mouse Bird Snake Wolf is an original and inspiring creation tale by David Almond and breathtakingly illustrated by Dave McKean. It tells the story of lazy, self-satisfied and disinterested gods looking down on an incomplete world and congratulating themselves on a job well done. It is after all a rather marvelous world filled with marvelous things, but Harry, Sue and Little Ben have noticed holes in the world where things should be. Deciding that they can create just as well as the gods, they do just that and fill the holes while the gods sleep. When things get scary, it is up to Little Ben to fix things because it's obvious the gods don't care. The moral here is that the creativity of children can make and unmake the world and they need no one's permission to do so, even the gods. This is a book for bright, inquisitive children and adults who enjoy mythology. It doesn't hurt that it's also a visually beautiful book.
—
Heather's Staff Picks
Description
---
The imagination of three children takes on unexpected life in a creation tale from the dream team of David Almond and Dave McKean.

The gods have created a world that is safe and calm and rather wonderful. They have built mountains, forests, and seas and filled the world with animals, people, and unnamed beasts. Now their days are fat with long naps in the clouds, mutual admiration, and tea and cake. But their world has gaps in it filled with emptiness, gaps that intrigue Harry, Sue, and little Ben until they begin to see what might fill them. One by one the children conjure, from twigs and leaves and stones, a mousy thing, a chirpy thing, and a twisty legless thing. But as the children's ideas grow bolder, the power of their visions proves greater and more dangerous than they, or the gods, could ever have imagined. Is it possible to unmake what's been made?
About the Author
---
David Almond is the winner of the 2010 Hans Christian Andersen Award, the most prestigious award in international children's literature. He is known worldwide as the multi- award-winning author of Skellig, Clay, and many other novels, stories, and plays, including two previous titles illustrated by Dave McKean. David Almond lives in England.

Dave McKean is a world-renowned artist, designer, and film director who has illustrated several books for children, including Coraline, The Day I Swapped My Dad for Two Goldfish, and The Wolves in the Walls, all by Neil Gaiman, and two prior titles by David Almond. Dave McKean lives in England.
Praise For…
---
Almond and McKean, the collaborators behind THE SAVAGE and SLOG'S DAD, take on themes worthy of Greek tragedy: human ambition, the emergence of evil, and the power of the individual to resist it.
—Publishers Weekly (starred review)

The contorted beauty of McKean's figures and Almond's intense, twisty narrative will keep readers right on the edge of comfort before the clouds clear. Along the way, they'll be dazzled by the lush lyricism of the tale and the wild emotional swings from page to page, as well as McKean's creative use of mixed materials and compositional space. You could say that this is Almond and McKean's most beautiful effort yet, but just know that beautiful has its own dark and wondrous meaning in their hands.
—Booklist (starred review)

An award-winning British team conjures a haunting graphic novella that shows what happens when the complacent gods stop creating things and children pick up the slack...Wild and alive, this visually extravagant fable of the marvel, power and active nature of the creative process howls at the moon.
—Kirkus Reviews

Almond's mythic and folkloric elements, wrapped in his own fertile imagination, combine with McKean's expressionistic illustrations to produce a whole that reveals the beauty and terror encountered in the created world and in the human spirit.
—School Library Journal

Like all good fables, this one has multiple interpretive possibilities and moral resonances, in addition to being a compelling story in its own right. McKean's illustrations effectively complement Almond's textual world-making... Much rich fodder for the discussion of big ideas as well as storytelling form will be found here.
—Bulletin of the Center for Children's Books

From the stunning cover art hinted at by the faux-die-cut jacket to a last glimpse of the louche and negligent gods and the wolf lurking in the darkness deep underground, a fascinating, provocative collaboration.
—The Horn Book

Almond's imagination works potent magic in this original creation story. ... Only Almond could so clearly show mystical and imaginative acts as physical, and in a story-telling voice that's musical, forward-moving and perfect in its surprises. Suitably, McKean's illustrations bring raw, forceful energy into the unfinished world. Highly recommended.
—The Toronto Star

Almond and McKean have created a magical creation tale unlike any other. ... The narrative alone is a delight to read aloud but the combination of story with illustrations make this work remarkable. McKean uses a varied combination of panels and perspectives that make each page a delight.
—Library Media Connection (highly recommended)

David Almond's mythological story about children pitching in when the gods got lazy after creation, offers plenty for everyone, youngest to oldest, to discuss.
—Newsday