The Kingdom of Little Wounds (Hardcover)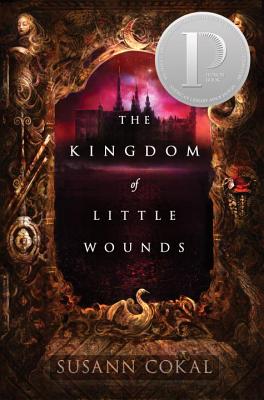 $22.99
Special Order - Subject to Availability
Staff Reviews
---
When Susann Cokal was writing The Kingdom of Little Wounds and was asked about her work, she said she was writing,  "a fairy tale about syphilis." It goes without saying that I love this book beyond reason! It's a dark, bloody story that is part lush fantasy, part gritty history. Each chapter is told by a revolving cast of characters, from a disgraced seamstress, to a slave who was presented to the court naked and coated in sugar, and the Queen who is slowly losing her grip on reality, to the King, who is plagued by illness and in love with the wrong person, along with so many more. Even though magic abounds, I felt immersed in what daily life could have been like in the Middle Ages—I was absolutely transported! I can't wait to see more from this talented author and I'd recommend this book to readers of Grimm's Fairy Tales and fans of Robin LaFevers!
—
Lauren's Staff Picks
Description
---
A 2014 Michael L. Printz Honor Book

A young seamstress and a royal nursemaid find themselves at the center of an epic power struggle in this stunning young-adult debut.

On the eve of Princess Sophia's wedding, the Scandinavian city of Skyggehavn prepares to fete the occasion with a sumptuous display of riches: brocade and satin and jewels, feasts of sugar fruit and sweet spiced wine. Yet beneath the veneer of celebration, a shiver of darkness creeps through the palace halls. A mysterious illness plagues the royal family, threatening the lives of the throne's heirs, and a courtier's wolfish hunger for the king's favors sets a devious plot in motion. Here in the palace at Skyggehavn, things are seldom as they seem — and when a single errant prick of a needle sets off a series of events that will alter the course of history, the fates of seamstress Ava Bingen and mute nursemaid Midi Sorte become irrevocably intertwined with that of mad Queen Isabel. As they navigate a tangled web of palace intrigue, power-lust, and deception, Ava and Midi must carve out their own survival any way they can.
About the Author
---
Susann Cokal is the author of two adult novels, Mirabilis and Breath and Bones, and her short stories and literary criticisms have been widely published in literary journals and The New York Times Book Review. This is her first novel for young adults. Currently an associate professor at Virginia Commonwealth University, she lives in Richmond, Virginia.
Praise For…
---
[A]lmost de Sadean in its rich, sumptuous details.
—The New York Times Book Review

The events at court are recounted in richly detailed prose that renders immediate the sights and smells of a time when science was deeply intertwined with superstition and politics was a blood sport. ... The novel demands and rewards full immersion in its account of the everyday life, beliefs, and medical practices of the royals, and readers will definitely come away with a (dis)taste for the cultural history of the Renaissance. ... Cokal skillfully and unapologetically blurs the lines between fairy tale and history.
—Bulletin of the Center for Children's Books (starred review)

[T]he novel's ... brutality, eloquence, and scope are a breathtaking combination.
—Publishers Weekly (starred review)

This novel is distinctive in thought and elocution, but it is also dense and full of adult content.
—School Library Journal (starred review)

Complex and carefully crafted — mesmerizing.
—Kirkus Reviews (starred review)

Cokal creates a mystical, shadowy setting full of intrigue and hidden passions.
—VOYA

The author seamlessly interweaves crooked fairy tales throughout her dark story... [T]he book's lyrical writing, enthralling characters, and compelling plot will give older readers lots to ponder
—Booklist

Brazen, baroque, The Kingdom of Little Wounds plots coordinates of history, fever, and magic in such a way that each is occasionally disguised as the other. However, there's no disguising Susann Cokal's immediate rise to eminence as a pantocrator of new realms. I lived in her controversial kingdom for only a week, but I suspect and hope I shall never recover.
—Gregory Maguire, author of Wicked and What-the-Dickens

There are deep and shallow reading experiences; this is a deep reading experience. There is nothing like it, though the fossil record flashes all kinds of petticoat. (Sigrid Undset. Margaret Atwood.) Elegant, complex, and sharp as a needle.
—Blythe Woolston, winner of the William Morris Prize and author of Black Helicopters

An epic, mercurial tale of astounding beauty, power, and madness.
—Gigi Amateau, author of Claiming Georgia Tate

Cokal's complex and dark fairy tale is not merely a primer of Renaissance cultural life — it's a window cut directly into that world.
—San Francisco Chronicle

By combining fantasy with an incredibly realistic depiction of Renaissance Europe, Cokal brings to life a world that easily could have been a true one. Her exquisite descriptions spring off the page and into your senses. Just as easily as you marvel at the ornate details of a gown, you'll wrinkle your nose at the scent of unwashed courtiers' bodies and uncleaned chambers. You'll gasp at the iniquities of the time and root for the unaristocratic underdogs. Cokal makes Skyggehavn as real as any writer can make her fictional realm.
—TeenReads.com