Flora and Ulysses: The Illuminated Adventures (Paperback)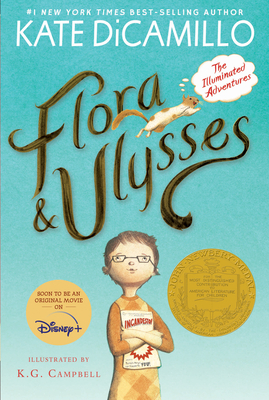 Staff Reviews
---
There are plenty of good reasons Kate DiCamillo's Flora and Ulysses is the latest Newbury Award Winner and Club Read favorite. Self-described cynic Flora Belle Buckman pulls Ulysses (the squirrel) from a vacuum cleaner and after resuscitation discovers this born de novo superhero can fly and type misspelled poetry. We later discover Flora's mother fears Ulysses is rabid and seeks to remove him...for good. This is no ordinary story, it's a novel intermixed with graphic-novel format--loaded with eccentric characters and sticky situations. Not to mention, the benefits of superhero worship are a prominent and vital theme. I would relive my childhood each time Flora's admiration for The Amazing Incandesto, the comic book hero, would inspire her critical thinking. This is a story of hope and inspiration for all. Best read aloud to the whole family, Flora and Ulysses is a page-turner to the last.
—
EDDIE'S STAFF PICKS
Description
---
Available in a paperback edition! The beloved 2014 Newbery Medal winner by former National Ambassador for Young People's Literature Kate DiCamillo.

It begins, as the best superhero stories do, with a tragic accident that has unexpected consequences. The squirrel never saw the vacuum cleaner coming, but self-described cynic Flora Belle Buckman, who has read every issue of the comic book Terrible Things Can Happen to You!, is the just the right person to step in and save him. What neither can predict is that Ulysses (the squirrel) has been born anew, with powers of strength, flight, and misspelled poetry — and that Flora will be changed too, as she discovers the possibility of hope and the promise of a capacious heart. From #1 New York Times best-selling author Kate DiCamillo comes a laugh-out-loud story filled with eccentric, endearing characters and featuring an exciting format — a novel interspersed with comic-style graphic sequences and full-page illustrations, all rendered in black-and-white by artist K. G. Campbell.
About the Author
---
Praise For…
---
In Flora and Ulysses, longtime fans will find a happy marriage of Mercy Watson's warmth and wackiness and Edward Tulane's gentle life lessons. In Flora, they will find a girl worth knowing, and one they will remember.
—The New York Times Book Review

Newbery-winner DiCamillo is a master storyteller not just because she creates characters who dance off the pages and plots, whether epic or small, that never fail to engage and delight readers. Her biggest strength is exposing the truths that open and heal the human heart. She believes in possibilities and forgiveness and teaches her audience that the salt of life can be cut with the right measure of love.
—Booklist (starred review)

Original, touching and oh-so-funny tale starring an endearingly implausible superhero and a not-so-cynical girl.
—Kirkus Reviews (starred review)

Despite supremely quirky characters and dialogue worthy of an SAT prep class, there's real emotion at the heart of this story involving two kids who have been failed by the most important people in their lives: their parents.
—Publishers Weekly (starred review)

Rife with marvelously rich vocabulary reminiscent of the early superhero era (e.g., "Holy unanticipated occurrences!") and amusing glimpses at the world from the point of view of Ulysses the supersquirrel, this book will appeal to a broad audience of sophisticated readers. There are plenty of action sequences, but the novel primarily dwells in the realm of sensitive, hopeful, and quietly philosophical literature.
—School Library Journal (starred review)