Arthritis for Dummies (Paperback)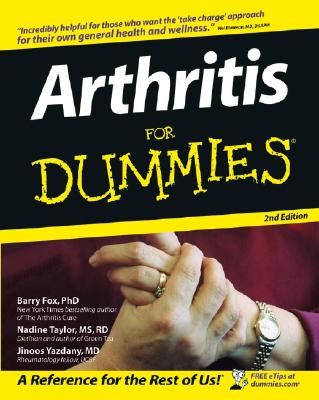 $19.99

Not Available In-Store - Usually Ships from Warehouse in 1-5 Days
Description
---
A must-have reference for arthrits patients and their loved ones
Whether it appears as a little bit of creaky stiffness in the hip or knee or as a major case of inflammation that settles in several joints, arthritis is an unwelcome visitor that knocks on just about everybody's door sooner or later. Although there is currently no out-and-out cure for arthritis, there are many techniques for
managing
this disease--that is, controlling its symptoms so that you can get on with your life
Arthritis For Dummies is a book for both the millions who suffer from chronic joint conditions classified under arthritis, as well as family members and friends of arthritis sufferers who want to offer support and help. The bestselling author of The Arthritis Cure, Dr. Barry Fox, along with healthcare professionals Nadine Taylor and Jinoos Yazdany, have updated this friendly, hands-on guide to give you the latest information available on:
The different types of arthritis
Diagnosing the condition
Alleviating your symptoms and minimizing pain
The latest treatments and therapies
Living day-to-day with arthritis and improving your lifestyle
This friendly guide features expert advice on finding a doctor that's right for you and walks you through the latest medications, diagnostic procedures, surgical advances, and dietary findings to help you manage arthritis, slow down its progression, and enjoy life to the fullest. You get diet, exercise, and self-care regimens designed to protect and soothe your joints, as well as the latest on:
Keeping your joints in shape
Spotting warning signs
Evaluating conventional and alternative treatments
Making positive lifestyle changes
Dealing with chronic pain
Exercising away your stiffness
Coping with stress, anger, and depression
Complete with tips on traveling with arthritis, saving money on prescriptions, and managing your weight safely, Arthritis For Dummies is your must-have guide to controlling your symptoms, finding lasting relief, and enjoying life to the fullest
About the Author
---
Barry Fox and Nadine Taylor are a husband-and-wife writing team living in Los Angeles, California. Barry Fox, PhD, is the author, coauthor, or ghostwriter of numerous books, including the New York Times number-one bestseller, The Arthritis Cure (St. Martin's, 1997). He also wrote its sequel, Maximizing The Arthritis Cure (St. Martin's, 1998), as well as The Side Effects Solution (to be published by Broadway Books in 2005), What Your Doctor May Not Tell You About Hypertension (Warner Books, 2003), What Your Doctor May Not Tell You About Migraines (Warner Books, 2001), Syndrome X (Simon & Schuster, 2000), The 20/30 Fat and Fiber Diet Plan (HarperCollins, 1999), and Cancer Talk (Broadway Books, 1999). His books and over 160 articles covering various aspects of health, business, biography, law, and other topics have been translated into 20 languages. Nadine Taylor, MS, RD, is the author of Natural Menopause Remedies (Signet, 2004), 25 Natural Ways To Relieve PMS (Contemporary Books, 2002) and Green Tea (Kensington Press, 1998), as well as co-author of Runaway Eating (to be published by Rodale in 2005), What Your Doctor May Not Tell You About Hypertension (Warner Books, 2003), and If You Think You Have An Eating Disorder (Dell, 1998). After a brief stint as head dietitian at the Eating Disorders Unit at Glendale Adventist Medical Center, Ms. Taylor lectured on women's health issues to groups of health professionals throughout the country. She has also written numerous articles on health and nutrition for the popular press. Jinoos Yazdany, MD, MPH, is a board-certified internist and a Rheumatology Fellow at the University of California, San Francisco. She completed her undergraduate education at Stanford University, where she received the Deans' Award for Academic Achievement and graduated with Honors and Distinction. She completed medical school at the University of California, Los Angeles, where she received a Humanism in Medicine award from the Health Care Foundation of New Jersey and graduated Alpha Omega Alpha. Dr. Yazdany also studied public health at Harvard University. Her research involves examining health disparities in the care of patients with chronic diseases. This is her first book.