The End of Eternity: A Novel (Paperback)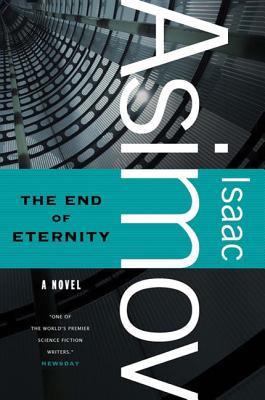 $17.99
Email or call for price.
Description
---
One of Isaac Asimov's SF masterpieces, this stand-alone novel is a monument of the flowering of SF in the 20th century. It is widely regarded as Asimov's single best SF novel and one every SF fan should read.

Andrew Harlan is an Eternal, a member of the elite of the future. One of the few who live in Eternity, a location outside of place and time, Harlan's job is to create carefully controlled and enacted Reality Changes. These Changes are small, exactingly calculated shifts in the course of history made for the benefit of humankind. Though each Change has been made for the greater good, there are always costs.

During one of his assignments, Harlan meets and falls in love with Noÿs Lambent, a woman who lives in real time and space. Then Harlan learns that Noÿs will cease to exist after the next change, and risks everything to sneak her into Eternity.

Unfortunately, they are caught. Harlan's punishment? His next assignment: kill the woman he loves before the paradox they have created results in the destruction of Eternity.
About the Author
---
Isaac Asimov, author of the Foundation trilogy and many other novels, was one of the great SF writers of the 20th century, and his hundreds of books introduced many thousands of readers to science fiction. Born in Brooklyn, he lived in Boston and in New York City for most of his life.
Praise For…
---
"His most effective piece of work. Asimov's exemplary clarity in plotting is precisely suited to the material at hand." —Locus

"By literary standards, this tale of time travel from the 95th century is generally rated Asimov's best." —Entertainment Weekly

"Asimov's flirtation with the tropes employed by A.E. van Vogt and Charles Harness is startling for an author deemed ultra-rational and scientific.…The effects of this influential, seminal book echo to the present, in the works of such writers as Greg Egan, John Varley, Kage Baker, and Greg Bear." —SciFi.com