Voyage of the Basilisk: A Memoir by Lady Trent (The Lady Trent Memoirs #3) (Hardcover)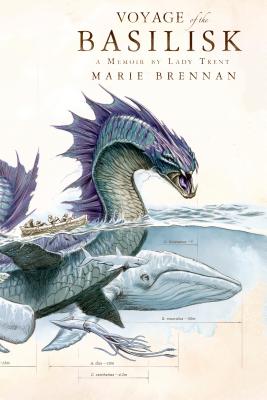 Other Books in Series
This is book number 3 in the The Lady Trent Memoirs series.
Description
---
The thrilling adventure of Lady Trent continues in Marie Brennan's Voyage of the Basilisk . . .

Devoted readers of Lady Trent's earlier memoirs, A Natural History of Dragons and The Tropic of Serpents, may believe themselves already acquainted with the particulars of her historic voyage aboard the Royal Survey Ship Basilisk, but the true story of that illuminating, harrowing, and scandalous journey has never been revealed—until now.

Six years after her perilous exploits in Eriga, Isabella embarks on her most ambitious expedition yet: a two-year trip around the world to study all manner of dragons in every place they might be found. From feathered serpents sunning themselves in the ruins of a fallen civilization to the mighty sea serpents of the tropics, these creatures are a source of both endless fascination and frequent peril. Accompanying her is not only her young son, Jake, but a chivalrous foreign archaeologist whose interests converge with Isabella's in ways both professional and personal.

Science is, of course, the primary objective of the voyage, but Isabella's life is rarely so simple. She must cope with storms, shipwrecks, intrigue, and warfare, even as she makes a discovery that offers a revolutionary new insight into the ancient history of dragons.


The Lady Trent Memoirs
1. A Natural History of Dragons
2. The Tropic of Serpents
3. Voyage of the Basilisk
4. In the Labyrinth of Drakes
5. Within the Sanctuary of Wings
About the Author
---
MARIE BRENNAN is an anthropologist and folklorist who shamelessly pillages her academic fields for material. She is the author of several acclaimed fantasy novels including A Natural History of Dragons; The Onyx Court Series: Midnight Never Come, In Ashes Lie, A Star Shall Fall, and With Fate Conspire; Warrior; and Witch. Her short stories have appeared in more than a dozen print and online publications.
Praise For…
---
"A thoroughly absorbing conclusion to this refreshingly different and consistently intriguing pentalogy"—Kirkus Reviews on Within the Sanctuary of Wings

"This mix of scientific and fantastic creatures remains in fine form." —Publishers Weekly, on In the Labyrinth of Drakes

"These chronicles have the power of fabulous and historic voyages, along with a wry wit that refuses to accept the standard notions of any era—past, present, or future."—Locus on The Memoirs of Lady Trent series

"Isabella, Lady Trent, narrates her astounding adventures from volume to volume, blending Victorian pastiche and alternate-world fantasy with a distinctly pulp sensibility…now is the time to get acquainted."—NPR on The Voyage of the Basilisk

"Discoveries about the connections between dragons and humans mix with bone-punk technology, and revelations crash like waves in a satisfying conclusion." —Publisher's Weekly on Voyage of the Basilisk

"Smart and nuanced...Overwhelmingly fun and a perfectly delightful [summer] read."—io9 on The Tropic of Serpents

"Uncompromisingly honest and forthright [and] narrated in Brennan's usual crisp, vivid style.... Reader, lose no time in making Isabella's acquaintance." —Kirkus Reviews, starred review, on The Tropic of Serpents

"If you've ever secretly wished dragons were real, this story is for you. Fans of Naomi Novik and Mary Robinette Kowal will especially enjoy this book." —RT Book Reviews on A Natural History of Dragons
"These chronicles have the power of fabulous and historic voyages, along with a wry wit that refuses to accept the standard notions of any era—past, present, or future."—Locus on The Memoirs of Lady Trent series

"Isabella, Lady Trent, narrates her astounding adventures from volume to volume, blending Victorian pastiche and alternate-world fantasy with a distinctly pulp sensibility…now is the time to get acquainted."—NPR on The Voyage of the Basilisk

"Smart and nuanced...Overwhelmingly fun and a perfectly delightful [summer] read."—io9 on The Tropic of Serpents

"Uncompromisingly honest and forthright [and] narrated in Brennan's usual crisp, vivid style.... Reader, lose no time in making Isabella's acquaintance." —Kirkus Reviews, starred review, on The Tropic of Serpents

"If you've ever secretly wished dragons were real, this story is for you. Fans of Naomi Novik and Mary Robinette Kowal will especially enjoy this book." —RT Book Reviews on A Natural History of Dragons